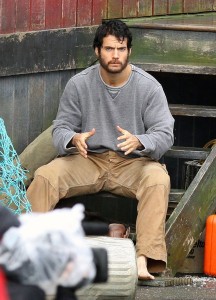 Bruce Wayne dans Batman Begins, Clark Kent dans Superman – Man of Steel : même combat ? Dans le film de Christopher Nolan, le héros de Gotham City fuyait la civilisation dans un coin reculé de Chine. Aujourd'hui, nous découvrons un Clark Kent barbu (Henry Cavill), réfugié incognito dans un village de pêcheurs en Alaska (la ville canadienne de Vancouver sert de doublure pour le tournage)… Plutôt étrange. Une retraite et une pause méditative pour Clark Kent, loin du monde moderne, avant un retour triomphal de Superman, assumant pleinement ses pouvoirs et ses responsabilités ? Vous avez peut-être une autre hypothèse ?
Dans le même temps, le réalisateur Zack Snyder poursuit sa révolution par ses choix audacieux… Présentement, il s'agit d'une révolution capillaire, puisque l'actrice Amy Adams conserve sa chevelure rousse pour interpréter Lois Lane. Après enquête, il s'avère que l'intrépide reporter du Daily Planet a quelques fois abandonné dans les comics ses cheveux de jais. Mais cela surprend tout de même ! Clark Kent barbu et Lois Lane rousse : tout est possible, gardons bien cela en mémoire !
Superman – Man of Steel sort le 14 juin 2013 (date de sortie américaine) avec Henry Cavill (Clark Kent/Superman),Amy Adams (Lois Lane), Diane Lane (Martha Kent),Kevin Costner (Jonathan Kent), Laurence Fishburne(Perry White), Michael Shannon (Général Zod), Russell Crowe (Jor-El), Ayelet Zurer (Lara), Antje Traue (Faora), Harry Lennix (Général Swanwick) et Christopher Meloni (Colonel Hardy).