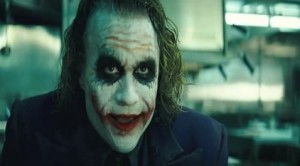 Comme dirait le Joker dans The Dark Knight : « And here we go… » !
L'information n'est pas encore officielle, mais selon le site Batman-on-Film, la bande annonce de The Dark Knight Rises sera attachée au film Sherlock Holmes 2 – A Game of Shadows (Jeu d'Ombres) aux Etats-Unis ! Un choix logique puisque le film relatant les nouvelles aventures du détective anglais est le seul blockbuster hivernal de la Warner. La date à entourer dans votre agenda est donc celle du 16 décembre 2011. Si le dieu Chauve-Souris est avec nous, la vidéo sera en ligne dans la foulée. Le mois de décembre sera fructueux pour les fans de Batman, puisque le prologue du film, d'une durée de 6 minutes, sera lui aussi diffusé avant les séances de Mission Impossible 4 en IMAX (toujours de l'autre côté de l'Atlantique). Malgré un teaser quelque peu décevant, reprenant des images des précédents opus, The Dark Knight Rises n'a presque rien à prouver, tant la confiance en Christopher Nolan est grande… D'où ma question : quelles sont vos attentes pour cette future bande annonce ? Batman à terre ? Bane conquérant ? Catwoman miaulant ?
The Dark Knight Rises sort le  25 juillet 2012, avec Christian Bale (Bruce Wayne/Batman), Morgan Freeman (Lucius Fox), Anne Hathaway (Selina Kyle/Catwoman), Gary Oldman (Jim Gordon), Tom Hardy (Bane), Joseph Gordon-Levitt (John Blake), Marion Cotillard (Miranda Tate), Michael Caine (Alfred) et Josh Pence (Ra's al Ghul jeune).