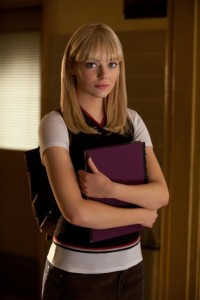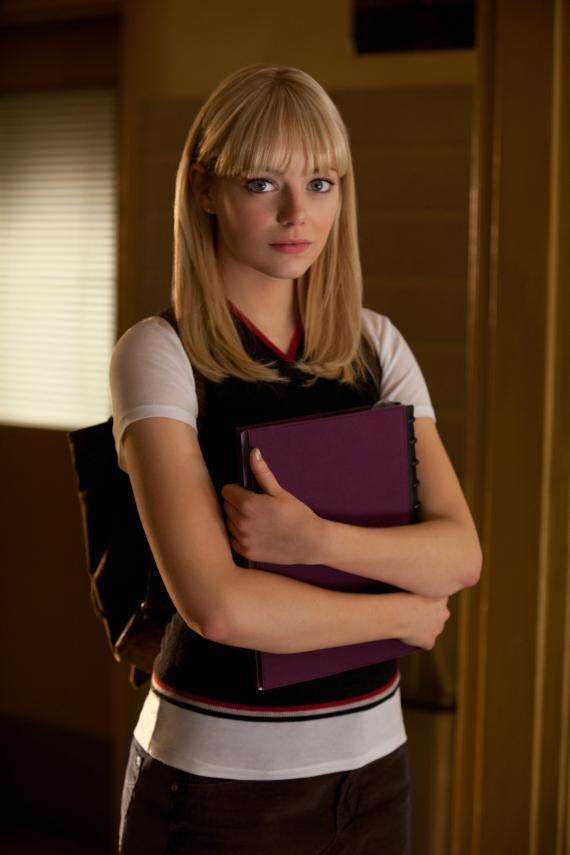 Bonjour à tous ! J'espère que vous avez passé un excellent week-end, que se soit en famille, avec vos amis, avec vos animaux de compagnie, devant un délicieux repas ou avec un bon film… Et puisque c'est les vacances et qu'il y a un peu de relâchement au niveau de l'actualité ciné, n'hésitez pas à venir raconter vos trouvailles super-héroïques déposées sous le  sapin par Super-Père Noël [attention spoiler : il n'existe pas !].

Afin qu'elles ne soient pas noyées entre une dinde et une bûche glacée, j'ai gardé pour ce début de semaine les dernières images de The Amazing Spiderman, où Gwen Stacy (Emma Stone) est à l'honneur. Que dire, si ce n'est que je commence à comprendre le choc des lecteurs qui ont lu une certaine aventure datant de 1973 (si vous voulez en discuter, restez évasif pour ceux qui ne connaîtraient pas bien l'histoire du personnage)… Tant d'innocence, de beauté, et d'intelligence : c'est la fille parfaite pour ce brave Peter Parker !
The Amazing Spiderman sort dans les salles françaises le 4 juillet 2012, avec Andrew Garfield (Peter Parker/Spiderman), Emma Stone (Gwen Stacy), Rhys Ifans (Dr. Curt Connors/le Lézard), Martin Sheen (Oncle Ben), Sally Field (Tante May), Denis Leary (George Stacy), Campbell Scott (Richard Parker), Julianne Nicholson (Mary Parker), Irrfan Khan (Dr. Ratha), Chris Zylka (Flash Thompson) et Miles Elliot (Billy Connors).