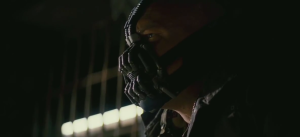 [MAJ : La Warner dément ce changement. Le site Collider a confiance en sa source, mais enquête…] Le « problème Bane » n'était donc pas qu'une rumeur. Il y a quelques jours, nous apprenions que la Warner était légèrement préoccupée par la voix de Bane. En effet, en découvrant le prologue dans les salles IMAX, certains spectateurs américains n'arrivaient pas à saisir toutes les paroles du méchant masqué. D'un côté, nous avions un studio inquiet. De l'autre, Christopher Nolan, un réalisateur qui ne voulait pas modifier le rendu sonore de son personnage, afin que – paraît-il – les spectateurs se montrent plus attentifs à ce que dit le personnage à l'écran. Aujourd'hui, jeu, set et match pour la Warner : une nouvelle piste sonore a été envoyée aux projectionnistes des salles IMAX. Imaginez un peu l'attention portée à The Dark Knight Rises : nous parlons ici d'un changement de piste sonore pour un prologue de six minutes, avec des bruits de fond diminués pour mieux entendre la voix d'un seul personnage ! Batman est surveillé comme du lait de Bantha sur le feu…

En bonus, la bande annonce de The Lion King Rises, un trailer mashup. Le principe est simple : vous prenez la piste audio de la bande annonce de The Dark Knight Rises, et vous montez par-dessus les images d'un autre film, soit dans le cas présent, Le Roi Lion… D'après vos réactions sur la page Facebook du site, c'est plutôt réussi !
The Dark Knight Rises sort le 25 juillet 2012, avec Christian Bale (Bruce Wayne/Batman), Morgan Freeman (Lucius Fox), Anne Hathaway (Selina Kyle/Catwoman), Gary Oldman (Jim Gordon), Tom Hardy (Bane), Joseph Gordon-Levitt (John Blake), Marion Cotillard (Miranda Tate), Michael Caine (Alfred) et Josh Pence (Ra's al Ghul jeune).