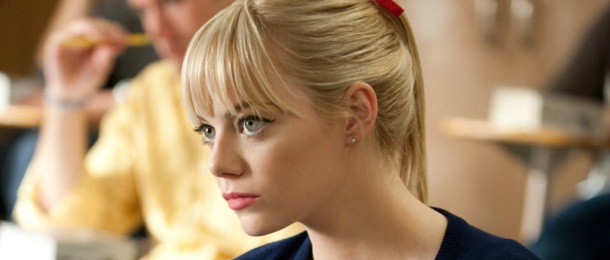 Quand Edward Cullen rencontre sa dulcinée Bella Swan en salle de cours pour la première fois, il est… constipé. Quand Peter Parker se fait aborder par Gwen Stacy en salle de classe, il est également… pas dans son assiette (mais réveillez-vous les mecs !). A tel point que la blonde héroïne lui fait passer un petit test médical dans l'extrait ci-dessous, pour déterminer si tout va bien dans sa tête et s'il doit ou non se rendre à l'infirmerie. Diffusé lors de l'émission The Ellen DeGeneres Show, émission durant laquelle Emma Stone était interviewée, ce quatrième clip de la semaine nous montre un Parker endormi, questionné par le belle étudiante.
A la question « Quel est ton nom ? », un Peter sans doute inquiet rétorque : « Tu ne connais pas mon nom ? ». Après quoi Gwen délclare : « Je connais ton nom, mais je veux m'assurer que tu connais le tien. » Ne sont-ils pas mignons tous les deux ? Rappelons pour ceux qui ne suivent pas l'actualité people – je m'inclus dans cette catégorie – que les deux acteurs sont aujourd'hui en couple. On ne fera donc jamais romance plus crédible à l'écran !
The Amazing Spiderman sort dans les salles françaises le 4 juillet 2012, avec Andrew Garfield (Peter Parker/Spiderman), Emma Stone (Gwen Stacy), Rhys Ifans (Dr. Curt Connors/le Lézard), Martin Sheen (Oncle Ben), Sally Field (Tante May), Denis Leary (George Stacy), Campbell Scott (Richard Parker), Julianne Nicholson (Mary Parker), Irrfan Khan (Dr. Ratha), Chris Zylka (Flash Thompson) et Miles Elliot (Billy Connors).