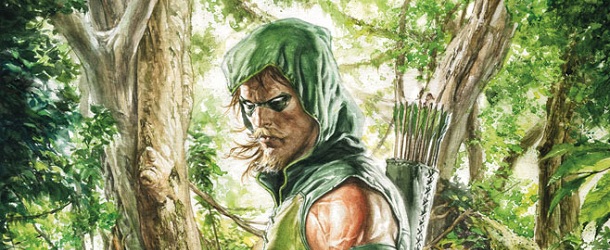 Si votre curiosité a été éveillée hier par le teaser de la série Arrow, voici le remède idéal pour assouvir votre soif d'arc et de flèches (non, voir The Avengers et Hawkeye pour la douzième fois ne compte pas, désolé). La chaîne The CW a mis en ligne une nouvelle bande annonce de cette future série DC Comics, une vidéo qui en montre bien plus que celle révélée hier, puisqu'il s'agit d'un trailer du pilote. Je ne sais pas si c'est une impression, mais Arrow n'a rien à envier à certaines productions actuelles…
D'ailleurs, je crois que le doute est levé : le ton de la série semble clairement très différent de Smallville. Les propos du réalisateurs n'étaient donc pas que des paroles en l'air. Oliver Queen est resté cinq ans sur une île déserte, il a donc toutes les raisons du monde pour revenir très énervé à Starling City ! Pour ceux qui ont un oncle ou un cousin en Amérique, rappelons que Arrow sera diffusée le mercredi à 20 heures. Quant à la France… il faudra attendre quelques longs mois pour en savoir plus.
Au casting d'Arrow, les spectateurs pourront retrouver Stephen Amell (Oliver Queen/Green Arrow), Colin Donnell(Tommy Merlyn), Katie Cassidy (Laurel Lance), David Ramsey (John Diggle), Willa Holland (Thea Queen), Susanna Thompson (Moira Queen), Paul Blackthorne (Quentin Lance), Colin Salmon (Walter Steele) et Darren Shahlavi (Constantine Drakon).