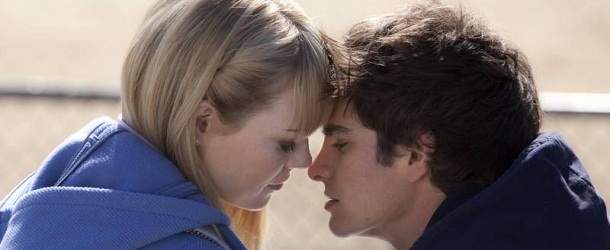 Parce que la Saint-Valentin, c'est bientôt (dans à peine neuf mois !), voici un article The Amazing Spiderman placé sous le signe de l'amour. Avoir un couple vedette à l'écran qui roucoule également à la ville, c'est bien pratique pour faire tout et n'importe avec bonne humeur et sincérité. Aujourd'hui, Andrew Garfield et Emma Stone nous proposent un duo musical aussi court qu'intense à destination des spectateurs allemands. Mais le rire d'Emma Stone est universel, alors pourquoi s'en priver ?
Glamour : ce beau gosse de Peter Parker qui embrasse la plus belle blonde du lycée. Car oui, Peter est un winner. Entre Gwen et MJ la top-model, se faire mordre par une araignée, c'est plus efficace qu'un déodorant Axe. Moins glamour : l'envers du décor avec Andrew Garfield pendu au plafond. Merci de ne pas montrer cette dernière image à des enfants de moins de sept ans, car cela risque de briser leurs rêves. Bon week-end, je repars de mon côté en quête d'un marteau magique, d'une bague verte et d'une voiture transformable… Parce que moi, j'y crois !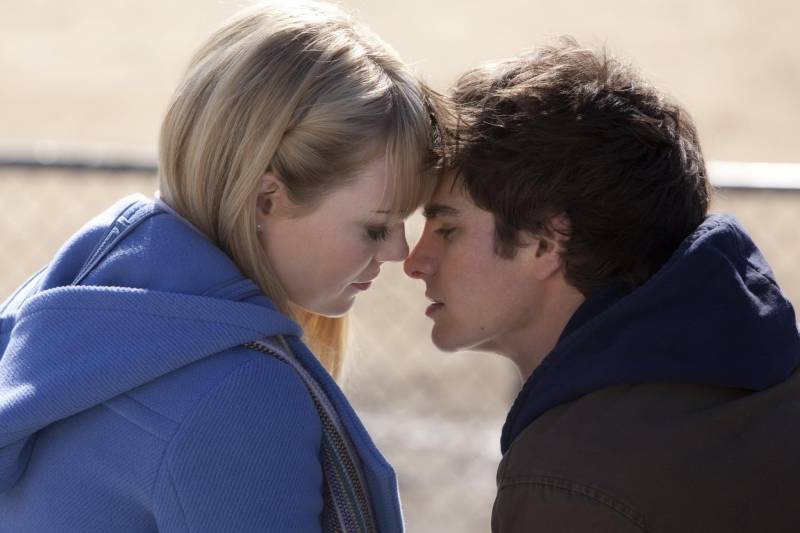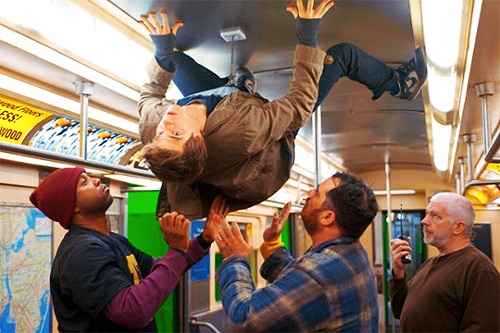 The Amazing Spiderman sort dans les salles françaises le 4 juillet 2012, avec Andrew Garfield (Peter Parker/Spiderman), Emma Stone (Gwen Stacy), Rhys Ifans (Dr. Curt Connors/le Lézard), Martin Sheen (Oncle Ben), Sally Field (Tante May), Denis Leary (George Stacy), Campbell Scott (Richard Parker), Julianne Nicholson (Mary Parker), Irrfan Khan (Dr. Ratha), Chris Zylka (Flash Thompson) et Miles Elliot (Billy Connors).