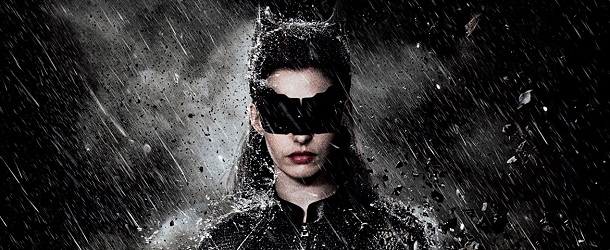 Comme vous allez pouvoir le constater dès ce soir ou dès demain, Anne Hathaway est l'une des très bonnes surprises de The Dark Knight Rises. Son interprétation du personnage de Selina Kyle a été saluée par la majorité des critiques, et s'il y en a un qui ne tarit pas d'éloges sur l'actrice, c'est bien le réalisateur Christopher Nolan. A tel point qu'il a évoqué dans les colonnes du Guardian la possibilité d'un spin-off centré sur la féline voleuse : « Pour moi, j'en ai fini avec Gotham et ces personnages. J'ai raconté notre histoire, et je passe à autre chose [mais] je pense vraiment qu'elle le mérite – elle est incroyable. » C'est presque une tradition. A chaque nouveau film super-héroïque, l'idée d'un film dérivé sur tel ou tel personnage fait son apparition… Avec l'absence de résultat que l'on connait !
 Les choses auraient pu en rester là. Sauf que depuis, Anne Hathaway s'est également prononcée en faveur d'un spin-off Catwoman, mais à une condition : « Si [Nolan] est intéressé, alors je suis très intéressé. Je pense qu'il serait bon d'en savoir plus sur elle, mais seulement si cela est fait avec les bonnes personnes. Elle vit à Gotham City, donc cela doit être établi par les personnes qui ont fait cette version de Gotham. Pour moi, du moins. » Après une « adaptation » désastreuse en 2004, Catwoman mérite-t-elle un nouveau film ? Sachant que Nolan ne remettra sans doute jamais les pieds à Gotham, Hathaway se laissera-t-elle séduire par un autre réalisateur ? Le débat fait rage sur le forum Batman !
The Dark Knight Rises sort le 25 juillet 2012, avec Christian Bale (Bruce Wayne/Batman), Morgan Freeman (Lucius Fox), Anne Hathaway (Selina Kyle/Catwoman), Gary Oldman (Jim Gordon), Tom Hardy (Bane), Joseph Gordon-Levitt (John Blake), Marion Cotillard (Miranda Tate), Michael Caine (Alfred) et Josh Pence (Ra's al Ghul jeune).