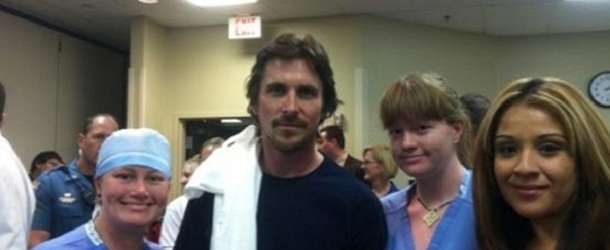 La très bonne action de la journée est à mettre au crédit de l'acteur Christian Bale. L'interprète de Bruce Wayne s'est rendu au chevet des victimes de la tuerie d'Aurora, perpétrée vendredi dernier lors d'une séance de minuit de The Dark Knight Rises, entrainant la mort de 12 personnes. L'acteur a lui-même organisé le voyage dans cette ville du Colorado, sans informer la presse et sans avoir été envoyé par la Warner. Il s'agit donc d'une initiative personnelle pour celui qui avait déclaré ce week-end : « Les mots ne peuvent exprimer l'horreur que je ressens. Je ne peux réellement comprendre la douleur et le chagrin des victimes et de ceux qui les aiment mais mon cœur va vers eux. »
Pendant plus de deux heures, Christian Bale s'est entretenu avec le personnel hospitalier et avec sept des rescapés du cinéma Century 16, tous des fans, très heureux de pouvoir côtoyer l'acteur. La première photo ci-dessous a été tweetée par l'un d'entre eux, Carey Rottman. Le geste est bien sûr à saluer. Mais il y a quand même une chose qui me chiffonne un peu dans toute cette affaire… C'est de voir la production de The Dark Knight Rises s'impliquer autant dans le drame, comme si l'équipe du dernier Batman endossait une part de responsabilité dans la tragédie de vendredi, ce qui n'a pas à être le cas.
Je ne critique absolument pas l'action de Christian Bale. C'est juste que je trouve par exemple « bizarre » le fait que la Warner fasse un don de plusieurs millions de dollars en faveur des victimes. C'est un beau geste, qu'on ne peut que saluer, mais le film The Dark Knight Rises n'a pas à porter la responsabilité de la tuerie. En tout cas, respect à Monsieur Bale !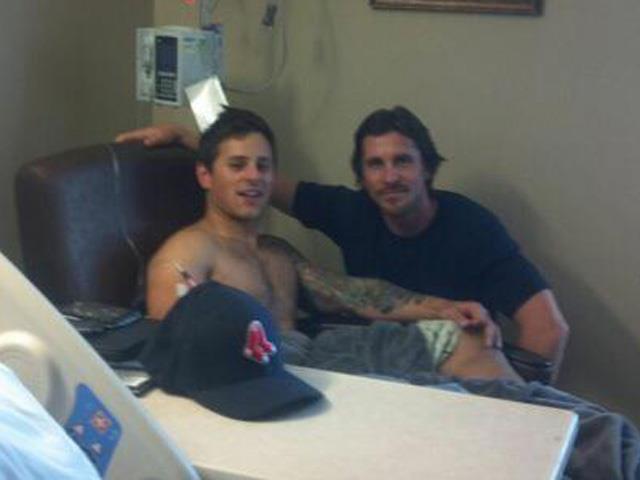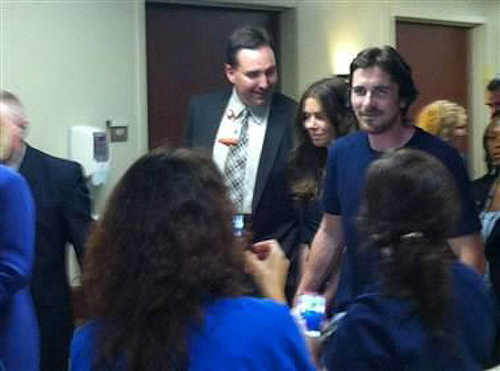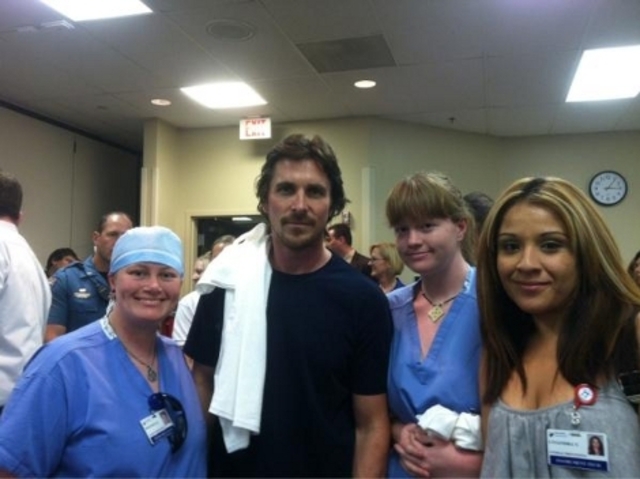 The Dark Knight Rises sort AUJOURD'HUI, avec Christian Bale (Bruce Wayne/Batman), Morgan Freeman (Lucius Fox), Anne Hathaway (Selina Kyle/Catwoman), Gary Oldman (Jim Gordon), Tom Hardy (Bane), Joseph Gordon-Levitt (John Blake), Marion Cotillard (Miranda Tate), Michael Caine (Alfred) et Josh Pence (Ra's al Ghul jeune).