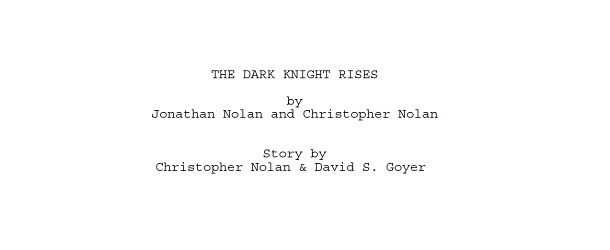 Il est une heure du matin. C'est le week-end. C'est les vacances. Vous avez du temps, vous manquez de lecture et vous êtes fan de Batman ? J'ai ce qu'il vous faut : l'intégralité du scénario de The Dark Knight Rises, à télécharger ICI. Le fichier pèse 197 Ko, contient 165 pages, est bien évidemment signé Christopher Nolan, Jonathan Nolan et David S. Goyer, et a été mis en ligne gracieusement par un fan (@antovolk). Une version numérique et accessible pour tous d'un livre publié en langue anglaise, The Dark Knight Trilogy : The Complete Screenplays, qui comme son titre l'indique, rassemble les scénarios des trois épisodes de la trilogie.
Vous n'aurez ici que celui de « Magnus Rex » (le titre de travail de The Dark Knight Rises, utilisé lors du tournage pour éloigner les curieux). Soit le plus intéressant, puisqu'il est facile de comparer les dialogues entendus récemment au cinéma en VOST et ceux initialement prévus dans le scénario. Au-delà d'un intérêt purement comparatif (phrases coupées ou alternatives), c'est une occasion unique d'appréhender la conception d'un film. Structure, découpage des scènes, indications concernant les décors… Tout est parti de là en 2010, une matière brute qui a abouti au long métrage que nous connaissons tous aujourd'hui !
The Dark Knight Rises est en salles depuis le 25 juillet 2012, avec Christian Bale (Bruce Wayne/Batman), Morgan Freeman (Lucius Fox), Anne Hathaway (Selina Kyle/Catwoman), Gary Oldman (Jim Gordon), Tom Hardy (Bane), Joseph Gordon-Levitt (John Blake), Marion Cotillard (Miranda Tate), Michael Caine (Alfred) et Josh Pence (Ra's al Ghul jeune).