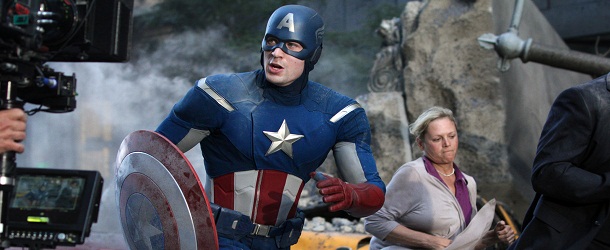 L'année 2013 va être folle… Dans une interview accordée au site Collider (interview qui n'est pas encore en ligne), Chris Evans vient de révéler que le tournage de Captain America 2 – The Winter Soldier débuterait… en mars 2013 ! Récapitulons. Entre maintenant et la fin de l'année, nous pourrons suivre le tournage de Thor 2 – The Dark World. La rumeur actuelle veut que Marvel Studios enchaîne ensuite en janvier avec Ant-Man, réalisé par Edgar Wright. Tout s'explique : Kevin Feige, le patron de Marvel Studios, ne souhaite pas rester inactif entre la fin de Thor 2 et le premier clap de Captain America 2 !
Si la mise en chantier d'Ant-Man se confirme, nous pourrions même nous retrouver avec deux films Marvel Studios produits en même temps (vers mars/avril) ! C'est ce qu'on appelle un âge d'or… Et ce n'est pas fini puisque logiquement, Les Gardiens de la Galaxie feront leurs grands débuts derrière la caméra, aux alentours de l'été 2013 ! Quel que soit le projet, et Tony Stark ou pas, j'espère que vous serez toujours aussi nombreux à suivre l'actualité de cet univers sur le site et le forum !
Captain America 2 – The Winter Soldier sort le 4 avril 2014 aux États-Unis avec Chris Evans (Steve Rogers/Captain America) et Sebastian Stan (Bucky Barnes/le Soldat de l'Hiver).