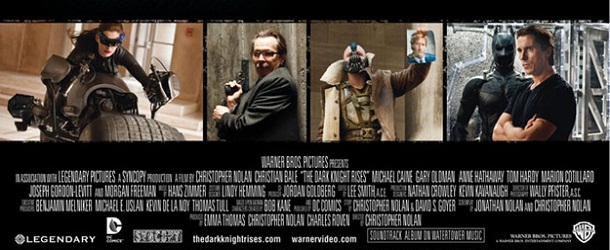 Tel le Petit Poucet, la Warner sème les informations jour après jour sur les différentes éditions de The Dark Knight Rises. Pour ne pas emmêler tout le monde, commençons par le DVD/Blu-ray français, qui doit sortir le 28 novembre prochain. Ce sont toujours quatre éditions qui sont annoncées. Le combo Blu-ray + DVD + Copie Digitale
bénéficiera d'un boitier Steelbook et sera orné de l'affiche finale du film. Alors qu'outre-Rhin, les fans allemands auront droit à la superbe affiche teaser. Zut.
Autre grosse info, la sortie en 2013 d'un coffret ultime intitulé The Dark Knight Trilogy Ultimate Collector's Edition. C'est tout ce que l'on sait pour le moment. Rien sur la date de sortie, le contenu, la disponibilité en France, etc… Sympa pour le grand public qui n'est pas au courant et qui va se ruer sur le coffret trilogie. Voici justement le visuel de l'édition américaine (deuxième image). Sans oublier un nouvel aperçu du coffret collector « masque brisé » de The Dark Knight Rises. Au milieu de tout ça, vous trouverez la liste complète des bonus, et les spécificités techniques de l'édition américaine. Pas de scènes coupées bien sûr, on est chez Nolan !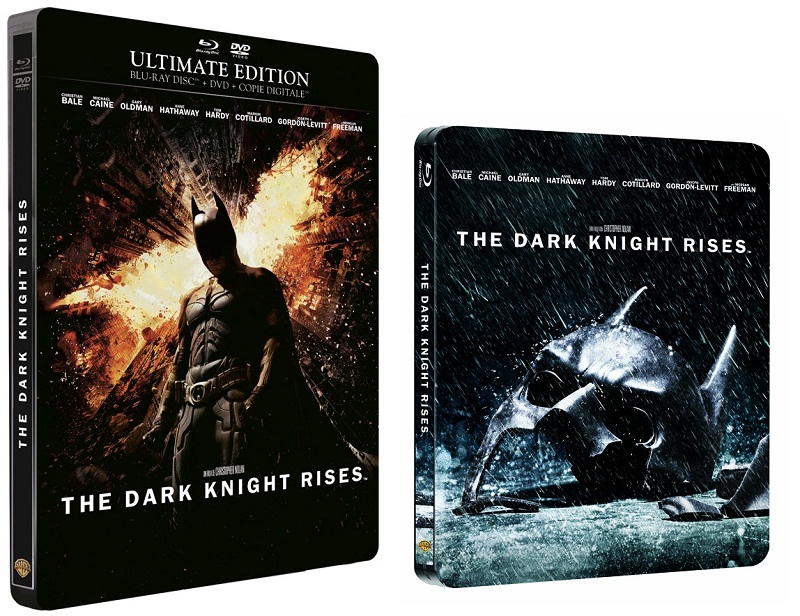 BLU-RAY AND DVD ELEMENTS

BLU-RAY COMBO PACK:

– "THE BATMOBILE" DOCUMENTARY: Witness all five Batmobiles together for the first time in history. Dive deep into every aspect of the most awe-inspiring weapon in Batman's arsenal as you journey through the birth and evolution of this technological marvel and cultural icon. (01:00)

– ENDING THE KNIGHT: A comprehensive look into how Director Christopher Nolan and his production team made "The Dark Knight Rises" the epic conclusion to the Dark Knight legend.

– Production
The Prologue: High-Altitude Hijacking
Return to the Batcave
Beneath Gotham
The Bat
Batman vs Bane
Armory Accepted
Gameday Destruction
Demolishing a City Street
The Pit
The Chant
The War on Wall Street
Race to the Reactor

– Characters
The Journey of Bruce Wayne
Gotham's Reckoning
A Girls Gotta Eat

– Reflections
Shadows & Light in Large Format
The End of A Legend

– Trailers
– Art Galleries
– UltraViolet: Instantly stream and download films to compatible devices

DVD:

– The Journey of Bruce Wayne
– UltraViolet: Instantly stream and download films to compatible devices
Blu-ray Combo Pack $35.99

Single disc Amaray $28.98

Bat Cowl package Blu-ray Combo Pack $39.99

The Dark Knight Trilogy – Blu-ray $52.99

The Dark Knight Trilogy DVD $38.99

Street Date: December 4, 2012

DVD Languages: English, Latin Spanish, Canadian French

BD Languages: English, Latin Spanish, Canadian French, Brazilian Portuguese

DVD Subtitles: ESDH, Latin Spanish, Parisian French

BD Subtitles: ESDH, Latin Spanish, Parisian French, Brazilian Portuguese

Running Time: 165 minutes

Rating: PG-13 for intense sequences of violence and action, some sensuality and language

Blu-ray – 5.1 DLBY/SURR DTS-HDMA 2.0 DLBY/DGTL

DVD – 5.1 DLBY/SURR 2.0 DLBY/ DGTL