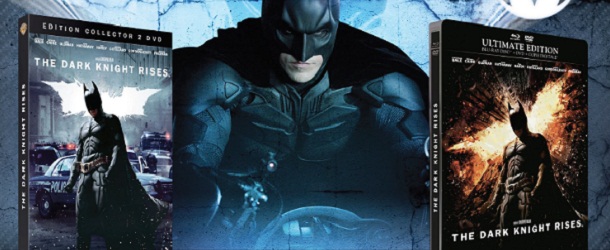 Comment !?! Vous n'avez toujours pas commandé votre coffret collector The Dark Knight Rises ? La fameuse édition « masque » sortira bien en France, le 28 novembre prochain. Soit à la même date que le Blu-ray et le DVD du film. La bestiole pèse dans les 800 grammes, et sera surtout limitée à… 30 000 exemplaires. Problème du jour : sachant que l'avant-première de The Dark Knight Rises au Grand Rex avait fait salle comble en quelques minutes, combien de temps faudra-t-il à Amazon pour vendre ces 30 000 coffrets ?
Car oui, l'édition limitée n'est disponible que sur internet. La Poste va bien s'amuser. Pour commander le masque de Batou et les disques qui vont avec, il suffit de cliquer sur l'image ci-dessous. En complément, voici la bande annonce américaine du Blu-ray, avec un très bref aperçu des trois heures de bonus concoctées par Nolan et son équipe. Et pour finir, la liste détaillée desdits suppléments. Les fans de la Batmobile seront aux anges ! On discute de tout ça sur le forum…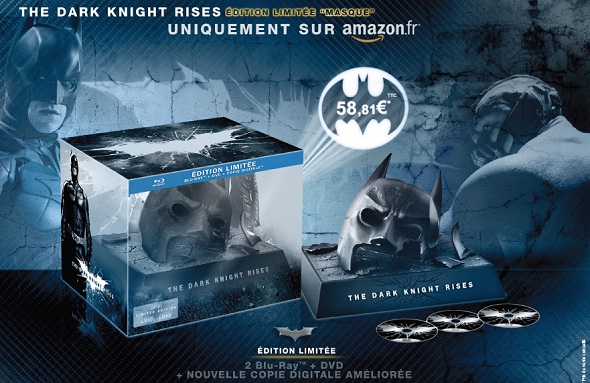 => LA BATMOBILE
Les 5 Batmobiles réunies pour la première fois. La plus impressionnante des armes de Batman se révèle sous tous ses aspects.
Découvrez la naissance et l'évolution de cette merveille technologique, véritable icône culturelle
=> BONUS, LA FIN DU CHEVALIER :
Le prologue : Détournement en haute-altitude. Découvrez les dessous de la séquence d'ouverture.
Gotham Souterrain : Chris Nolan et les chefs décorateurs discutent et construisent le repaire de Bane.
Retour à la Batcave : Au coeur de la reconstruction de la Batcave avec des images en accéléré, parsemées d'interviews et de commentaires.
Batman vs Bane : Les acteurs et l'équipe du film révèlent la manière dont ils ont préparé et tourné la scène de combat épique entre Batman et Bane.
La Bat : Retour sur la création du nouveau moyen de transport apporté par Nolan.
Arsenal accepté : Découvrez comment furent utilisés les effets spéciaux et les unités miniatures afin de simuler une démolition de plafond par le Tumbler.
Le gouffre : Les secrets de la construction de deux immenses plateaux de tournage verticaux.
Jour de destruction : L'équipe du film décrit la séquence de destruction du stade de Gotham.
La démolition d'une rue : Découvrez comment une série d'effets spéciaux très pratiques à été utilisée pour simuler la démolition d'une rue.
Le Chant : Christopher Nolan et Hans Zimmer reviennent sur la création du chant qui sera repris pour le thème musicale de Bane.
Guerre à Wall Street : Observez la coordination et la production de la scène de bataille à Manhattan.
La course au réacteur : l'orchestration par l'équipe du film de la séquence de poursuite, avec plusieurs Tumblers et Batpods.
Le voyage du Chevalier noir : plongez au coeur de l'histoire et des choix thématiques qui structurent le dernier chapitre du voyage
de Bruce Wayne. Avec les interviews de Chistopher Nolan, Jonah Nolan, David Goyer, Emma Thomas.
L'expiation de Gotham : Découvrez comment l'équipe du film a réinventé le personnage de Bane.
Un personnage féminin : Discussion sur le challenge de la création du personnage de Selina Kyle.
La fin d'une légende : L'équipe du film évoque le fait d'avoir travaillé sur The Dark Knight Rises, et leur participation sur la saga.