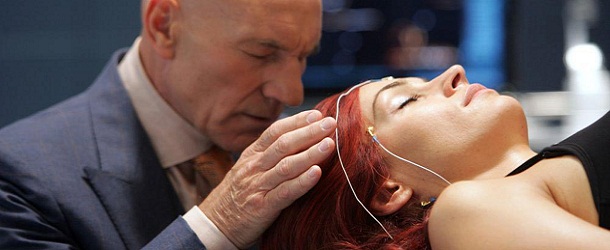 J'ai comme l'impression que nous allons être surpris… très surpris par X-Men – Days of Future Past. Avec son histoire de voyages dans le temps, la suite d'X-Men First Class prend la tournure d'un crossover First Class/trilogie X-Men ! En effet, après la rumeur du retour de Patrick Stewart dans le rôle du Professeur Xavier, c'est au tour de Famke Janssen d'apporter son petit grain de sel cosmique : « On ne sait jamais. Jean Grey, le Phénix… elle trouve un moyen de se réincarner en permanence, donc on ne sait jamais. (…) Je ne suis pas en position de dire quoi que ce soit. Je n'en sais rien. (…) Restez à l'écoute. »
Tout ceux qui regarderont la vidéo seront sans doute d'accord : elle ne nous dit pas tout… Lorsqu'il a évoqué son retour, Patrick Stewart a cité avec enthousiasme ses autres camarades de jeu… Famke Janssen était dans la liste. Ne reste plus qu'à surveiller les déclarations d'Halle Berry (Tornade), de Rebecca Romijn (Mystique) et d'Anna Paquin (Malicia) ! Deux équipes d'X-Men dans un même film, voilà qui est complètement dément… La riposte de la Fox à The Avengers ? A moins bien sûr qu'un X-Men 4 soit en chantier. Mais cela semble plus qu'improbable.
X-Men – Days of Future Past de Matthew Vaughn sort le 18 juillet 2014, avec James McAvoy (Charles Xavier/Professeur X),Michael Fassbender (Erik Lehnsherr/Magnéto) et Jennifer Lawrence (Raven Darkhölme/Mystique).