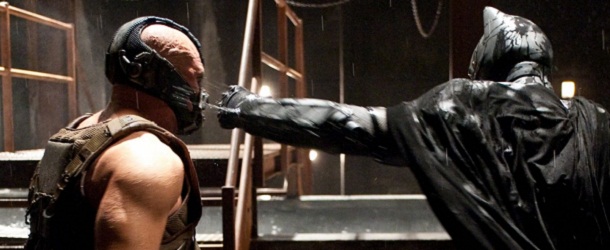 Tiens, plus que deux jours avant la Nuit The Dark Knight au Grand Rex, avec la diffusion des trois films de 21 heures 30 à 6 heures du matin… Pour ceux qui auront le courage et la chance d'y aller – c'est bien sûr complet -, j'espère que vous tiendrez le coup jusqu'au bout ! Les autres pourront toujours attendre le 28 novembre, date de sortie du DVD/Blu-ray de The Dark Knight Rises. Comme d'habitude, les premiers bonus commencent déjà à filtrer. On regrettera encore une fois l'absence de commentaire audio et de scènes coupées. Nolan reste Nolan.
Mais chacun pourra se consoler avec les trois heures de contenus inédits. La vidéo qui suit offre un aperçu de ce qui nous attend. Dans ce making-of, le réalisateur revient sur la fameuse scène de l'attaque du stade par Bane et ses sbires. Le journal The Sun a également mis en ligne une autre vidéo, sur la préparation physique de Tom Hardy, mais le court documentaire semble avoir purement et simplement disparu… Encore un coup de la Ligue des Ombres qui efface les traces de son lieutenant !
The Dark Knight Rises est sorti le 25 juillet 2012, avec Christian Bale (Bruce Wayne/Batman), Morgan Freeman (Lucius Fox), Anne Hathaway (Selina Kyle/Catwoman), Gary Oldman (Jim Gordon), Tom Hardy (Bane), Joseph Gordon-Levitt (John Blake), Marion Cotillard (Miranda Tate), Michael Caine (Alfred) et Josh Pence (Ra's al Ghul jeune).