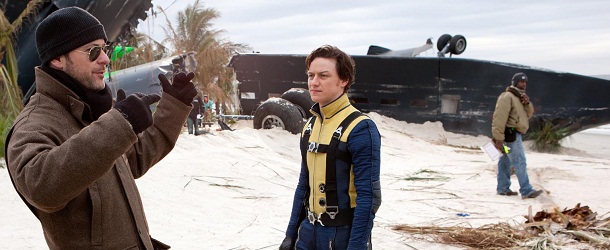 Non, Matthew Vaughn n'a pas quitté X-Men : Days of Future Past pour Star Wars – Episode VII. En tout cas, ce n'est pas la raison officielle. Si le réalisateur d'X-Men : Le Commencement a rendu ses mutants orphelins, c'est pour mieux s'occuper d'une autre adaptation d'un comic scénarisé par son ami Mark Millar (Kick-Ass)… La série en question s'intitule The Secret Service, est pour l'instant inédite en France et comme son nom l'indique, aborde l'univers de l'espionnage. Millar est à la plume, Vaughn participe à l'histoire, et Dave Gibbons (Watchmen) est aux crayons.
Un sacré trio, qui se permet de laisser en plan une adaptation Marvel… pour une autre adaptation Marvel (The Secret Service est publié par Icon, un label de la Maison des Idées). Le prolixe scénariste écossais a expliqué au site ComicBookResources les raisons du départ soudain de Matthew Vaughn. Un joli récit :
« (…) l'année prochaine nous commençons la production de 'Secret Service' que j'ai fait avec Dave Gibbons et Matthew, et dont je parle depuis des années. Nous pensions que Matthew allait faire X-Men en premier, mais nous avons découvert qu'il y a plusieurs imitations de 'Secret Service' en projet. Les gens pensent que vous mentez quand vous dites que vous ne cherchez pas à faire de vos comics des films si rapidement, mais les deux raisons, c'est que ça arrive comme ça parce que c'est la meilleure publicité que l'on puisse jamais avoir. Et pour moi, vendre des comics est la chose la plus importante.

La seconde raison, c'est parce que les gens essayent toujours de vous arnaquer. Quelqu'un va commencer à travailler sur un scénario avec votre idée. Il y a trois autres projets que je connais sur une sorte de James Bond qui prend un enfant de la rue pour le transformer en espion. Trois scénarios circulent déjà à Hollywood sur le sujet ! Donc Matthew et moi, on a dit : 'P*****. Nous n'allons pas laisser n'importe qui voler nos idées.' »

Là où le monde est vraiment petit, c'est que le premier acteur confirmé de The Secret Service n'est autre que… Mark Hamill ! Dans un des numéros, l'interprète de Luke Skywalker se fait kidnapper. Le rêve devient réalité pour Millar, puisque l'acteur a récemment accepté de faire un caméo dans le film, afin d'interpréter son propre rôle. D'un certain point de vue, les rumeurs actuelles ont raison : Matthew Vaughn tournera bien avec le Maître Jedi le plus célèbre de la galaxie Star Wars !