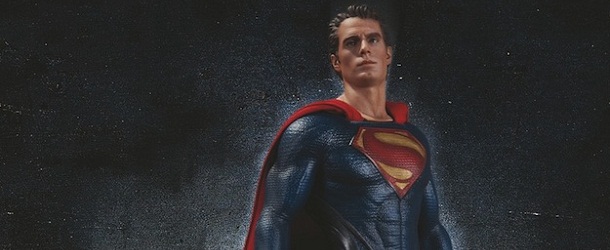 Je ne sais pas si les collectionneurs sont nombreux parmi vous (Oui/Non/Seulement le jour où Bruce Wayne me léguera une partie de sa fortune)… En tout cas, voici une très belle pièce qui ornera bientôt les étagères des fans du Dernier Fils de Krypton. DC Comics vient de dévoiler une statue Superman – Man of Steel à l'échelle 1:6, sculptée par Gentle Giant Studios. Il vous en coûtera 129.95 $ et une petite photo sur le topic « Qu'elle est grosse ma collection » du forum ! Un ultime avis sur le costume ?
MAN OF STEEL: SUPERMAN 1:6 SCALE ICONIC STATUE
Sculpted by Gentle Giant Studios Statue measures 13.25" high x 8.5" wide x 5.75" deep.
$129.95 US • On Sale May 2013
*Allocations May Occur
Before the highly anticipated summer movie, Man of Steel, hits theaters, be sure to pick up these new definitive 1:6 scale statues from DC Collectibles.
 ALSO AVAILABLE!

Man of Steel: Jor-El 1:6 Scale Iconic Statue
Man of Steel: Zod 1:6 Scale Iconic Statue
Man of Steel: Faora 1:6 Scale Iconic Statue
Superman – Man of Steel sort en France le 19 juin 2013 avec Henry Cavill (Clark Kent/Superman), Amy Adams (Lois Lane), Diane Lane (Martha Kent), Kevin Costner (Jonathan Kent), Laurence Fishburne (Perry White), Michael Shannon (Général Zod), Russell Crowe (Jor-El), Ayelet Zurer (Lara), Antje Traue (Faora), Harry Lennix (Général Swanwick) et Christopher Meloni (Colonel Hardy).