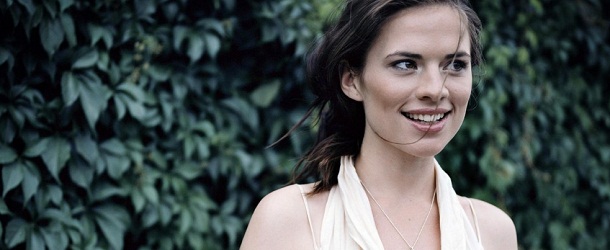 Alors, finalement… Dans Captain America : First Avengers, Stanley Tucci incarnait le Dr. Erskine, le savant qui a transformé le malingre Steve Rogers en Super-Soldat. Interrogé sur un éventuel retour, l'acteur a déclaré au site Collider qu'il n'avait pas été contacté par la production de Captain America : The Winter Soldier. C'est souvent ce qui arrive quand on se prend une balle tirée par un espion nazi (le nazi en question était d'ailleurs interprété par Richard 'Thorin' Armitage).
En revanche, Tucci a révélé ceci : « Je sais que Hayley va revenir dans une scène de flash-back. » Oups, cela s'appelle spoiler le premier caméo du film ! Si l'acteur est si bien informé, c'est qu'il venait de dîner avec Hayley Atwell. Le veinard. Contrairement à ce qui avait été annoncé, l'actrice reprendra donc bien son rôle de Peggy Carter. La Sentinelle de la Liberté n'a pas intérêt à roucouler trop fort auprès de la belle. Car si c'est le cas, le public risque de rejeter en bloc son idylle avec le personnage de Sharon Carter…
Captain America 2 – The Winter Soldier sort en France le 16 avril 2014 avec Chris Evans (Steve Rogers/Captain America), Sebastian Stan (Bucky Barnes/le Soldat de l'Hiver), Emily VanCamp (Sharon Carter ?), Scarlett Johansson (Natasha Romanoff/Black Widow), Anthony Mackie (Sam Wilson/Le Faucon), Frank Grillo (Brock Rumlow/Crossbones), Samuel L. Jackson (Nick Fury) et Cobie Smulders (Maria Hill).