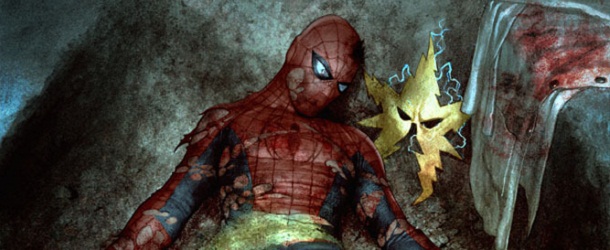 C'est la nouvelle la moins surprenante de l'année : Marc Webb va tourner une scène de The Amazing Spider-Man 2 dans un cimetière ! C'est peut-être une impression – il faudrait faire le compte – mais il n'y a pas un épisode du Tisseur sans un enterrement. The Amazing Spider-Man 2 n'échappe donc pas à cette règle tragique. [Après enquête, il n'y a pas d'enterrement dans le Spider-Man 2 de Sam Raimi. Juste une scène de recueillement.]
Le tournage de cet enterrement-mystère est prévu pour aujourd'hui à New York, dans un cimetière luthérien du Queens. Posons-nous la grande question : qui va mourir dans cette suite ? La mort attendue de vous-savez-qui (j'ai vraiment besoin de vous faire un dessin ?) semble inéluctable, mais n'est-ce pas un peu trop tôt ? Est-ce l'enterrement d'un vilain ? De l'Oncle Ben (flash-back, résurrection) ? A vos théories !
The Amazing Spider-Man 2 de Marc Webb sort le 2 mai 2014 aux Etats-Unis, avec Andrew Garfield (Peter Parker/Spider-Man), Emma Stone (Gwen Stacy), Jamie Foxx (Maxwell Dillon/Electro), Shailene Woodley (Mary Jane Watson), Dane DeHaan (Harry Osborn), Colm Feore (Norman Osborn ?), Paul Giamatti (le Rhino), et Sally Field (May Parker).