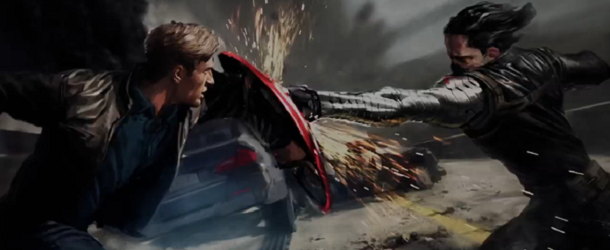 Figurez-vous que le tournage de Captain America : The Winter Soldier aurait débuté hier, lundi 1er avril, dans les environs de Los Angeles… Steve Rogers ne générant pas l'intérêt médiatique d'un Avengers ou d'un Iron Man, il n'y a pour l'instant pas d'image officielle célébrant le début des prises de vue. Mais en guise de lot de consolation, le site GeekZenith a déniché un premier concept art du film. On ne sait pas trop d'où vient l'image… Peut-être du coffret collector Marvel Phase 1, qui sort justement aujourd'hui aux Etats-Unis.
Steve Rogers affronte le Soldat de l'Hiver alias The Winter Soldier alias Bucky Barnes alias Sebastian Stan. Le personnage porte une sorte de respirateur sur le bas du visage. Ce n'est pas ça qui va empêcher notre héros de reconnaître son vieil ami, mais ce n'est qu'un concept art, ne l'oublions pas ! Après tout, le bras cybernétique frappé de l'étoile rouge est là. Et ça, c'est le principal. En bonus, les différents documents composant le dossier personnel de Steve Rogers. Des documents qui garnissent le coffret collector Marvel. Miam…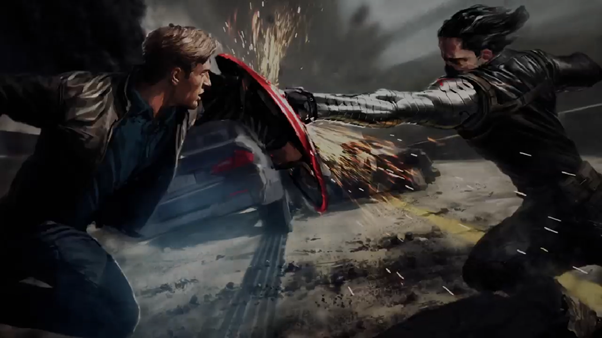 Captain America 2 – The Winter Soldier sort en France le 16 avril 2014 avec Chris Evans (Steve Rogers/Captain America), Sebastian Stan (Bucky Barnes/le Soldat de l'Hiver), Emily VanCamp (Sharon Carter), Scarlett Johansson (Natasha Romanoff/Black Widow), Anthony Mackie (Sam Wilson/Le Faucon), Frank Grillo (Brock Rumlow/Crossbones), Samuel L. Jackson (Nick Fury) et Cobie Smulders (Maria Hill).