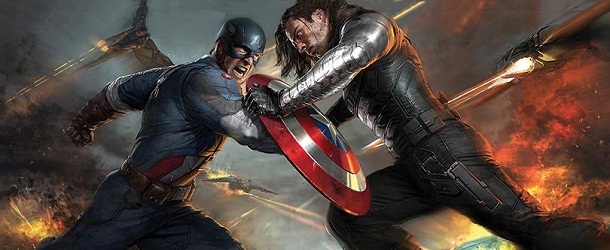 Mieux qu'une photo officielle, un concept art inédit de Ryan Meinerding ! Dans sa nouvelle oeuvre, l'artiste met en scène Captain America affrontant un Soldat de l'Hiver démasqué. C'est sans doute le combat final : Steve Rogers sait maintenant qui est son ennemi… En arrière-plan, nous distinguons la silhouette du Faucon, ainsi que des navettes semblables à celles utilisées par le S.H.I.E.L.D. dans The Avengers. Joe et Anthon Russo (Community) n'ont jamais réalisé de grandes scènes d'action… mais il y a un début à tout !
Captain America : The Winter Soldier commence là où The Avengers s'est arrêté, avec un Steve Rogers luttant pour tenir son rôle dans le monde moderne et faisant équipe avec Natasha Romanoff, alias Black Widow, pour combattre un puissant ennemi agissant dans l'ombre, dans la Washington D.C. d'aujourd'hui…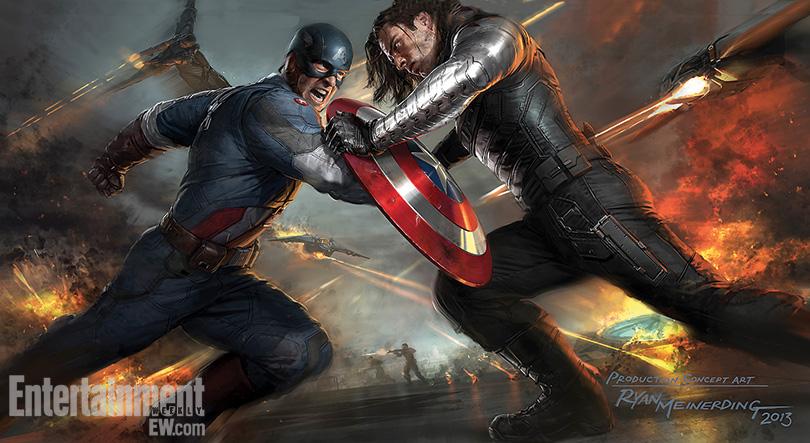 Captain America : Le Soldat de l'Hiver sort en France le 2 avril 2014, avec Chris Evans (Steve Rogers/Captain America), Sebastian Stan (Bucky Barnes/le Soldat de l'Hiver), Emily VanCamp (Sharon Carter/l'Agent 13), Scarlett Johansson (Natasha Romanoff/Black Widow), Anthony Mackie (Sam Wilson/le Faucon), Frank Grillo (Brock Rumlow/Crossbones), Samuel L. Jackson (Nick Fury), Robert Redford (Alexander Pierce) et Cobie Smulders (Maria Hill).