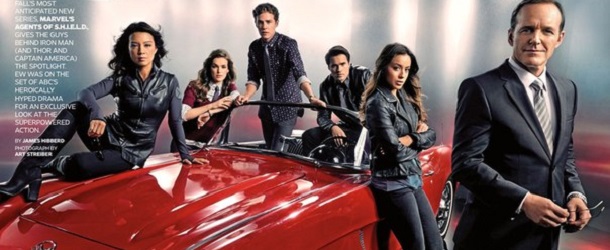 Je vous assure, regardez la première vidéo, les acteurs d'Agents of S.H.I.E.L.D. sont interviewés par un clone de Lex Luthor… Sinon, il faudrait que je vous parle du pilote, vu la semaine dernière en projection. Mais comme il y a un embargo plus ou moins clair, je ne vais pas entrer dans les détails. L'épisode est sympathique, le potentiel est là, les personnages sont attachants, mais parfois caricaturaux. La faute au format : 42 minutes, c'est beaucoup trop court (un double épisode de 90 minutes n'aurait pas été de refus). Et aux abonnés absents, Joss Whedon, avec une réalisation d'une platitude déconcertante. En même temps, ce n'est pas le principal. Car Coulson lives !
L'Agent Phil Coulson revient dans l'organisation mondiale chargée du maintien de la paix, le S.H.I.E.L.D. Il rassemble une petite équipe d'agents, très bien formés, pour s'occuper des affaires qui n'ont pas encore été classées, et de tout ce qui est nouveau et inconnu. Cette équipe se compose de l'Agent Grant Ward, un spécialiste du combat et de l'espionnage ; de l'Agent Melinda May, une pilote et une pratiquante d'arts martiaux ; du brillant, mais socialement maladroit, scientifique Agent Leo Fitz ; et de l'Agent Jemma Simmons. Ils seront rejoints par une nouvelle recrue civile, une pirate informatique, Skye.
La série Agents of S.H.I.E.L.D. sera diffusée à partir de la rentrée sur ABC, avec Clark Gregg (Agent Phil Coulson), Brett Dalton (Agent Grant Ward), Ming-Na Wen (Agent Melinda May), Iain De Caestecker (Agent Leo Fitz), Elizabeth Henstridge (Agent Jemma Simmons) et Chloe Bennet (Skye).