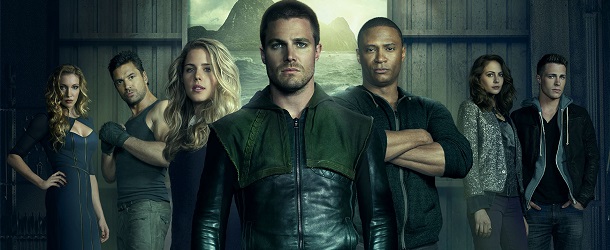 Aussitôt diffusé, aussitôt visionné ? C'est le cycle de la vie, chaque semaine, venez commenter le dernier épisode d'Arrow ! Dans cette nouvelle aventure intitulée 'League of Assassins', Green Arrow et Black Canary décident de se faire une soirée DVD devant Batman Begins, histoire de mieux connaître l'ennemi du jour. Oliver Queen va-t-il croiser la route de Liam Neeson ? Ra's al Ghul portera-t-il plainte contre le Dark Archer pour lui avoir volé son plan (destruction de Gotham/des Glades, même combat !) ? A vos claviers !
Arrow – Saison 2 – Episode 5 – 'League of Assassins' : Le Canary chante – En soignant les blessures du Canary, Oliver tente de la faire parler pour savoir d'où elle vient, mais elle refuse. Cependant, une fois qu'Oliver et le Canary sont attaqués au manoir des Queen par un tueur professionnel de la Ligue des Assassins, elle avoue sa connexion avec le groupe infâme. Pendant que Moira fait face à plusieurs chefs d'accusation, allant du meurtre au complot, pour sa participation à la destruction des Glades, l'assistant du procureur lui offre un choix – plaider coupable maintenant et éviter la peine de mort ou tenter sa chance au tribunal. Thea supplie sa mère de sa battre pour sa vie mais Moira semble résolue à accepter l'offre. Pendant ce temps, Oliver est furieux car Laurel a rejoint l'équipe menant l'accusation contre sa mère.
 Arrow – Saison 2 – Episode 5 – 'League of Assassins' – Extrait :
————————————————–
Arrow – Saison 2 – Episode 6 –'Keep Your Enemies Closer' – Preview :
Diggle poursuit Deadshot – Amanda Waller envoie des agents de l'A.R.G.U.S. enlever Diggle. Waller informe Diggle que Lyla a disparu après avoir suivi la piste de Deadshot à Moscou. Quand Diggle explique à l'équipe qu'il se rend en Russie pour sauver Lyla, Oliver et Felicity décident de le rejoindre, mais les choses se compliquent quand Isabel apparaît sur le tarmac et insiste pour participer à ce 'voyage d'affaire'. Pendant ce temps, l'avocat de Moira, Jean, dit à Thea que sortir avec Roy, un ancien criminel, nuit au dossier de sa mère.
Bonus – Quand Stephen Amell (Arrow) rencontre Tom Hiddleston (Loki) :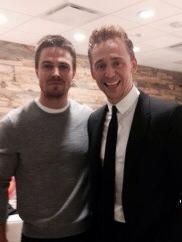 La série Arrow est diffusée chaque mercredi sur The CW, avec Stephen Amell (Oliver Queen), Katie Cassidy (Laurel Lance), David Ramsey (John Diggle), Emily Bett Rickards (Felicity Smoak), Willa Holland (Thea Queen), Colton Haynes (Roy Harper), Manu Bennett (Slade Wilson), Paul Blackthorne (Quentin Lance) et Susanna Thompson (Moira Queen)…