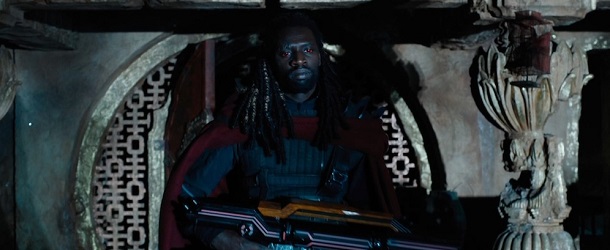 Allez, juste pour le fun, mettons Bishop en vignette ! Comme la plupart des blockbusters modernes, X-Men : Days of Future Past va s'offrir une session de tournage supplémentaire. Certains parleront de 'reshoots', mais ces derniers temps, le terme est devenu un gros mot (au même titre que 'reboot'). Il est de toute façon inexact, puisqu'il s'agira de tourner des scènes additionnelles (cf. : Thor : Le Monde des ténèbres). Pas de refaire un tiers du film (cf. : World War Z).
Il faut dire que la Fox surveille ses mutants comme du lait sur le feu… X-Men : Days of Future Past a en effet été bombardé deuxième plus grosse production du studio derrière Avatar. Pour finir, un mot sur une opération communiquée à la dernière minute : #AskHughJackman. L'acteur répondra à ses fans aujourd'hui, mardi 19 novembre, à 15 heures (envoyez votre question à @iTunesMovies avec le hashtag précité). Le tout est bien sûr organisé pour promouvoir la sortie du DVD/Blu-ray de The Wolverine : Le Combat de l'immortel !
X-Men – Days of Future Past sort en France le 21 mai 2014, avec James McAvoy (Charles Xavier/Professeur X), Michael Fassbender (Erik Lehnsherr/Magnéto), Hugh Jackman (Logan/Wolverine), Jennifer Lawrence (Raven Darkhölme/Mystique), Ellen Page (Kitty Pryde), Nicholas Hoult (Henry McCoy/le Fauve), Patrick Stewart (Professeur X « vieux »), Ian McKellen (Magnéto « vieux ») et Omar Sy (Bishop).