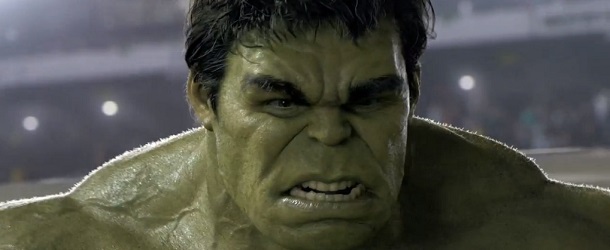 Si vous êtes fan de super-héros Marvel ET fan de football, c'est votre jour de chance ! Au casting de la dernière publicité Nike, Cristiano Ronaldo, Neymar Jr., Wayne Rooney, Zlatan Ibrahimović, Gerard Piqué, Gonzalo Higuaín, Mario Götze, Eden Hazard, Thiago Silva, Andrea Pirlo, David Luiz, Andrés Iniesta, Thibaut Courtois, Tim Howard et… Hulk !
Un an avant la sortie d'Avengers : Age of Ultron, le Géant de Jade est de retour avec son inénarrable short déchiré. C'est le 'vrai' Hulk, celui d'Avengers, avec les 'vrais' effets spéciaux ! Cependant, je préfère vous prévenir avant que vous ne deveniez vert de rage : le caméo ne dure que quelques secondes. Mais c'est déjà bien ! Pour une fois qu'Iron Man n'est pas la star…
Avengers : Age of Ultron est réalisé par Joss Whedon et sort en France le 29 avril 2015, avec Robert Downey Jr. (Tony Stark/Iron Man), Chris Hemsworth (Thor), Chris Evans (Steve Rogers/Captain America), Mark Ruffalo (Bruce Banner/Hulk), Scarlett Johansson (Natasha Romanoff/Black Widow), Jeremy Renner (Clint Barton/Hawkeye), Aaron Taylor-Johnson (Pietro Maximoff/Quicksilver), Elizabeth Olsen (Wanda Maximoff/Scarlet Witch), Cobie Smulders (Maria Hill) et James Spader (Ultron).