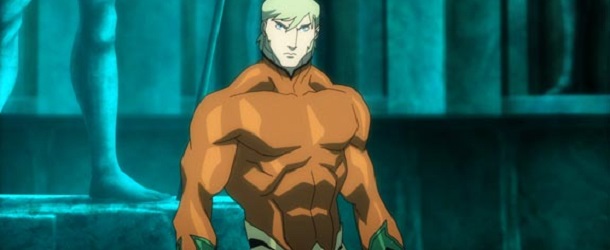 Réintroduire auprès du grand public des personnages secondaires avant la sortie d'un blockbuster, c'est un classique… Avec Justice League : Throne of Atlantis, Warner Bros. Animation offre une suite à Justice League : Guerre et met enfin en vedette Aquaman, l'un des futurs héros de Batman v Superman : Dawn of Justice. Voici la première image de ce nouveau film (via TVGuide). La sortie est prévue en 2015, mais les plus impatients peuvent toujours se ruer sur Justice League : Le Trône d'Atlantide, la saga qui sert de base au long métrage !
Frappé par un missile de la marine américaine, le Royaume d'Atlantis, dirigé par le frère d'Aquaman, décide d'attaquer la côte est des États-Unis en guise de représailles. Boston, Metropolis, Gotham City, aucune ville n'est épargnée. Les héros de la Justice League se réunissent alors pour tenter d'empêcher la destruction totale du monde, mais réalisent bien vite leur impuissance face à l'armée atlante [synopsis extrait des comics].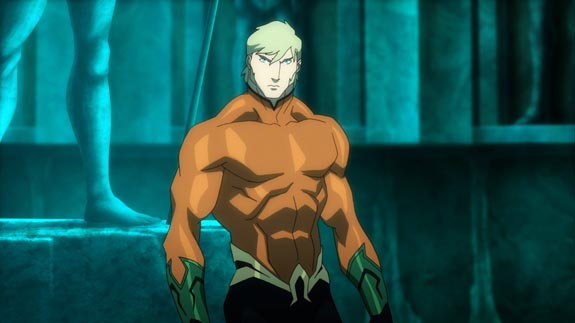 Justice League : Throne of Atlantis sort aux États-Unis début 2015 (DVD/Blu-ray), avec Matt Lanter (Arthur Curry/Aquaman), Jason O'Mara (Batman), Shemar Moore (Cyborg), Christopher Gorham (The Flash), Sean Astin (Shazam), Nathan Fillion (Green Lantern), Rosario Dawson (Wonder Woman), Jerry O'Connell (Superman), Sam Witwer (Orm) et Sumalee Montano (Mera).