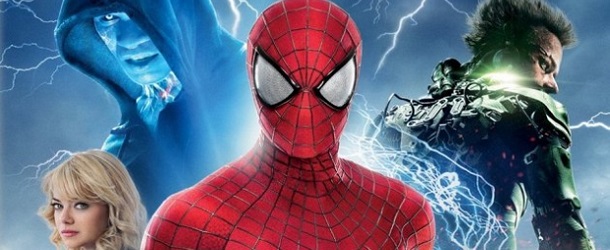 Le DVD/Blu-ray de The Amazing Spider-Man : Le Destin d'un Héros sort en France le 3 septembre (pré-commande). Mais d'ici là, restera-t-il quelque chose d'inédit à découvrir ? Sony a mis en ligne les dix premières minutes du blockbuster le plus clivant de l'année. Vous pouvez donc revoir gratuitement le combat Spider-Man vs. Aleksei Sytsevich, le discours prémonitoire de Gwen Stacy, le caméo de Stan Lee… Le procédé est curieux, mais on ne s'en plaindra pas !
Pour accompagner ce super-extrait, Sony nous propose une ribambelle de featurettes. Comme d'habitude, ce sont celles sur les effets spéciaux qui sont les plus intéressantes (la création du sauvetage de Times Square). En bonus, je vous laisse avec l'incohérente fin alternative révélant la résurrection de Richard Parker (« J'ai disparu pour te protéger. »). D'autres scènes coupées/alternatives ont également fuité : la transformation du Bouffon Vert ; Felicia face à son patron ; et la mort de Donald Menken…
——————————————–
——————————————–
The Amazing Spider-Man : Le Destin d'un Héros de Marc Webb est sorti en France le 30 avril 2014, avec Andrew Garfield (Peter Parker/Spider-Man), Emma Stone (Gwen Stacy), Jamie Foxx (Maxwell Dillon/Electro), Shailene Woodley (Mary Jane Watson), Dane DeHaan (Harry Osborn), Chris Cooper (Norman Osborn), Colm Feore (Donald Menken), Paul Giamatti (Aleksei Sytsevich/le Rhino) et Sally Field (May Parker).