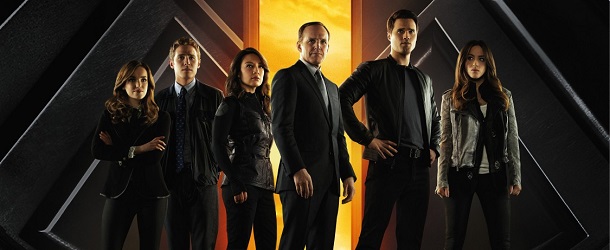 Nouveau rebondissement dans l'affaire 'Agents of S.H.I.E.L.D. en France'. La chaîne Serieclub a décroché la première diffusion de la série Marvel Television. Il faudra donc se rendre sur le canal 39 de Canalsat ou sur le canal 21 de Numericable pour suivre les aventures de l'Agent Coulson (chaque dimanche à 20h50, à partir du 26 octobre, à raison de trois épisodes par semaine).
La diffusion sur M6 de Marvel : Les Agents du S.H.I.E.L.D. n'est donc pas pour tout de suite. Snif. A défaut, je vous laisse découvrir les voix françaises de nos héros (cela fait toujours un petit choc !). Et si vous n'avez pas jeté un coup d'œil au dernier article Daredevil, sachez qu'Agents of S.H.I.E.L.D. aura droit à un panel à la Comic-Con de New York, vendredi 10 octobre…
La série Agents of S.H.I.E.L.D. est diffusée chaque mardi sur ABC (et prochainement sur M6), avec Clark Gregg (Directeur Phil Coulson), Ming-Na Wen (Agent Melinda May), Brett Dalton (Grant Ward), Chloe Bennet (Agent Skye), Iain De Caestecker (Agent Leo Fitz), Elizabeth Henstridge (Agent Jemma Simmons) et Nick Blood (Agent Lance Hunter).