Les Gardiens de la Galaxie ou le retard à l'allumage du département 'Produits dérivés' de Marvel Studios… Voici une bande annonce pour la réplique de la cassette audio écoutée en boucle par Peter Quill ('Marvel's Guardians of the Galaxy Awesome Mix Vol. 1' pour les intimes). Cette curiosité sera disponible à partir du 28 novembre. Malheureusement, il s'agit d'une exclusivité des magasins Record Store Day. L'avenir nous dira si cet objet collector est capable de traverser l'Atlantique… A défaut, vous pouvez toujours commander le CD ou vous venger sur le Coffret Blu-ray Prestige !
Peter Quill est un aventurier traqué par tous les chasseurs de primes pour avoir volé un mystérieux globe convoité par le puissant Ronan, dont les agissements menacent l'univers tout entier. Lorsqu'il découvre le véritable pouvoir de ce globe et la menace qui pèse sur la galaxie, il conclut une alliance fragile avec quatre aliens disparates : Rocket, un raton laveur fin tireur, Groot, un humanoïde semblable à un arbre, l'énigmatique et mortelle Gamora, et Drax le Destructeur, qui ne rêve que de vengeance. En les ralliant à sa cause, il les convainc de livrer un ultime combat aussi désespéré soit-il pour sauver ce qui peut encore l'être…
Face A :
1. "Hooked on a Feeling" – Blue Swede
2. "Go All the Way" – Raspberries
3. "Spirit in the Sky" – Norman Greenbaum (not featured in the film) 4. "Moonage Daydream" – David Bowie
5. "Fooled Around and Fell in Love" – Elvin Bishop
6. "I Want You Back" – Jackson 5
Face B :

1. "I'm Not In Love" – 10cc
2. "Come and Get Your Love" – Redbone
3. "Cherry Bomb" – The Runaways
4. "Escape (The Pina Colada Song)" – Rupert Holmes
5. "O-O-H Child" – The Five Stairsteps
6. "Ain't No Mountain High Enough" – Marvin Gaye and Tammi Terrell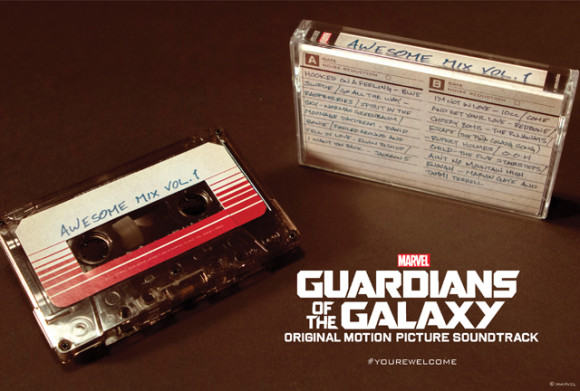 Les Gardiens de la Galaxie de James Gunn est sorti en France le 13 août 2014, avec Chris Pratt (Peter Quill/Star-Lord), Zoe Saldana (Gamora), David Bautista (Drax le Destructeur), Bradley Cooper (Rocket Raccoon), Vin Diesel (Groot), Lee Pace (Ronan l'Accusateur), Michael Rooker (Yondu), Karen Gillan (Nebula), Djimon Hounsou (Korath), Benicio del Toro (Taneleer Tivan/le Collectionneur), John C. Reilly (Rhomann Dey) et Glenn Close (Nova Prime).