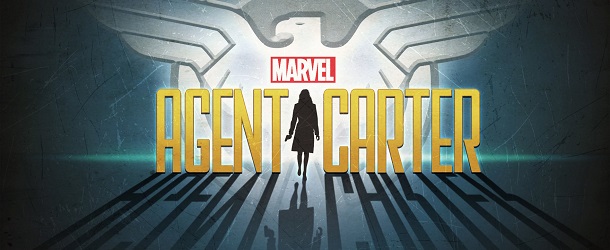 Une semaine après le 'Marvel Event', la Maison des Idées continue d'occuper le terrain avec la diffusion du documentaire 'Marvel, 75 Years : From Pulp to Pop !'. C'était il y a quelques minutes, sur ABC, à la place d'Agents of S.H.I.E.L.D. Morceau de choix de cette publicité géante, le premier extrait de la mini-série Agent Carter ! Il s'agit du clip diffusé le mois dernier au Comic-Con de New York. Howard Stark demande à Peggy Carter de retrouver une de ses inventions, la formule d'un explosif destructeur. Pour accomplir cette mission, il lui confie son majordome, Edwin Jarvis… C'est notre premier aperçu du personnage, interprété par James D'Arcy !
[Découvrez le documentaire 'Marvel : 75 Years, From Pulp to Pop !' en intégralité !]
Nous sommes en 1946 et la paix a porté un coup rude à Peggy Carter, qui se retrouve marginalisée quand les hommes rentrent au pays après la guerre. Travaillant pour l'organisation secrète SSR (Strategic Scientific Reserve), Peggy doit trouver son équilibre entre les tâches administratives et les missions secrètes que lui confie Howard Stark, tout en essayant de trouver sa voie en tant que femme seule en Amérique, après la perte de l'amour de sa vie – Steve Rogers.
La série Agent Carter sera diffusée sur la chaîne ABC en 2015, avec Hayley Atwell (Agent Peggy Carter), Chad Michael Murray (Agent Jack Thompson), Enver Gjokaj (Agent Daniel Sousa), James D'Arcy (Edwin Jarvis), Shea Whigham (Roger Dooley), Kyle Bornheimer (Agent Ray Krzeminski) et Dominic Cooper (Howard Stark).