C'est parti… Dans deux semaines, c'est le choc des super-héros sur la chaîne The CW ! Récapitulons. La première partie du crossover The Flash/Arrow sera diffusée le mardi 2 décembre : c'est l'épisode 8 de The Flash, intitulé 'Flash vs. Arrow'. La seconde partie du crossover sera diffusée le lendemain : c'est l'épisode 8 d'Arrow, intitulé 'The Brave and the Bold'. Et maintenant, place aux premières images – et aux synopsis – de ce crossover tant attendu !
The Flash – Saison 1 – Episode 8 – 'Flash vs. Arrow' : Barry est ravi quand Oliver, Felicity et Diggle se rendent à Central City pour enquêter sur une affaire impliquant un boomerang mortel. Excité à l'idée de faire équipe avec son ami, Barry demande à Oliver s'il peut l'aider dans l'affaire Ray Bivolo, un méta-humain qu'il est en train de traquer. Bivolo pousse les gens à perdre le contrôle de leurs émotions et utilise cette compétence pour dévaliser des banques. Malheureusement, le partenariat super-héroïque ne se déroule pas aussi bien que prévu pour Barry. Quand Oliver indique à ce dernier qu'il a encore beaucoup à apprendre, Barry veut lui prouver le contraire en essayant d'arrêter Bivolo seul. Quand le vilain infecte Barry et fait monter sa rage, tout le monde est en danger, et le seul moyen de le stopper est Arrow. Pendant ce temps, Iris est furieuse quand Eddie tente d'obtenir une équipe spéciale pour arrêter The Flash, Joe et le Dr Wells sont d'accord sur le fait qu'Arrow a une mauvaise influence sur Barry, et Caitlin et Cisco font affaire avec une nouvelle équipe à S.T.A.R. Labs.
[Le teaser de 'Flash vs. Arrow' débute à 0:18.]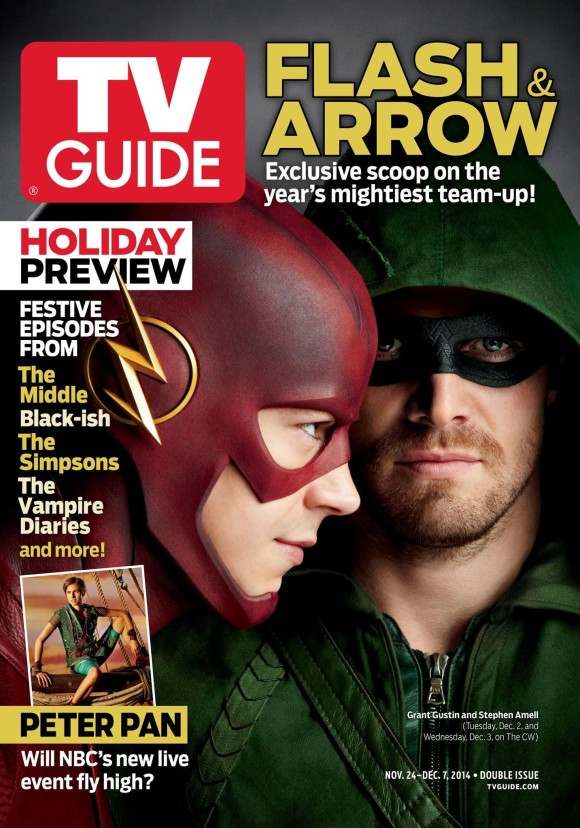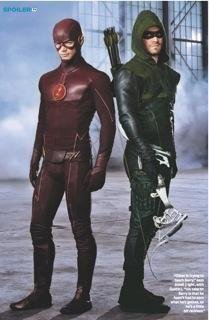 Arrow – Saison 3 – Episode 8 – 'The Brave and the Bold' : Oliver, Arsenal et Diggle traquent la position d'un tueur au boomerang, Digger Harkness, mais ils sont surpris quand ils se retrouvent face à face avec une équipe de l'A.R.G.U.S. Diggle demande à Lyla pour l'A.R.G.U.S. est impliqué mais elle esquive sa question, jusqu'au moment où Harkness attaque le bâtiment de l'organisation, tue plusieurs agents et la cible. Arrow prend part au combat et obtient l'aide d'un vieil ami – The Flash. Harkness parvient à s'enfuir et Oliver fait de nouveau équipe avec Barry pour le retrouver avant qu'il ne mette la main sur Lyla. Quand Harkness pose cinq bombes dans la ville pour qu'elles explosent en même temps, les deux équipes doivent s'allier pour sauver la ville.
————————————————
La série The Flash est diffusée chaque mardi sur la chaîne The CW, avec Grant Gustin (Barry Allen/The Flash), Candice Patton (Iris West), Rick Gosnett (Eddie Thawne), Danielle Panabaker (Caitlin Snow), Carlos Valdes (Cisco Ramon), Tom Cavanagh (Harrison Wells) et Jesse L. Martin (Inspecteur West).