Bruce Wayne vient de gagner un allié précieux dans sa croisade contre les membres corrompus de Wayne Enterprises… La série a recruté Chris Chalk (Homeland, The Newsroom, 12 Years a Slave) pour incarner Lucius Fox, le Monsieur Technologie de la célèbre société. Ce personnage, joué par Morgan Freeman dans la trilogie The Dark Knight, apparaîtra dans l'avant-dernier épisode de la saison 1 (et sans doute dans la saison 2).
Côté spoiler, Jada Pinkett Smith a annoncé qu'elle ne serait pas au casting de Gotham l'année prochaine. Ce n'est pas vraiment une surprise : l'interprète de Fish Mooney a signé pour une seule saison ; et son personnage, entièrement inédit, est le plus sacrifiable de la série. Pas besoin d'être devin pour deviner que le Pingouin va manger du Poisson avant la fin de la saison ! C'est dans l'ordre naturel des choses…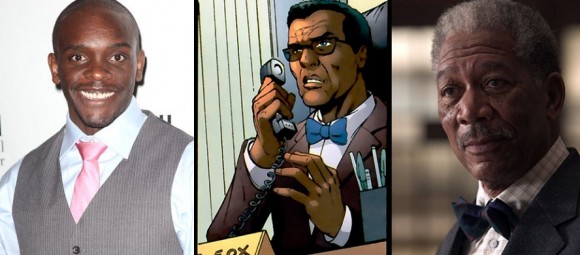 —————————————
La série Gotham est diffusée chaque lundi sur la chaîne FOX (et prochainement sur TF1), avec Ben McKenzie (Inspecteur James Gordon), David Mazouz (Bruce Wayne), Donal Logue (Harvey Bullock), Camren Bicondova (Selina Kyle), Zabryna Guevara (Sarah Essen), Erin Richards (Barbara Kean), Robin Lord Taylor (Oswald Cobblepot), Jada Pinkett Smith (Fish Mooney) et Drew Powell (Butch Gilzean).