24 heures après la commande de Supergirl… C'est officiel, l'Univers Télévisuel DC Comics compte une nouvelle série ! La chaîne The CW vient de commander Legends of Tomorrow, le spin-off d'Arrow et The Flash. Voici un premier synopsis et un rappel du casting :
Quand les héros seuls ne suffisent pas… le monde a besoin de légendes. Après avoir vu le futur, celui qu'il va désespérément tenter d'empêcher, le voyageur temporel Rip Hunter est chargé d'assembler un groupe disparate de héros et de vilains pour affronter une menace inarrêtable – une menace qui met en danger non seulement la planète, mais aussi le temps lui-même. Cette équipe hétéroclite pourra-t-elle vaincre une menace immortelle qui ne ressemble à rien de ce qu'ils connaissent ?


Au casting de Legends of Tomorrow, Victor Garber (The Flash, Alias), Brandon Routh (Arrow, Superman Returns), Arthur Darvill (Doctor Who), Caity Lotz (Arrow), Ciarra Renee (Pippin), Franz Drameh (Edge of Tomorrow), avec Dominic Purcell (The Flash, Prison Break) et Wentworth Miller (The Flash, Prison Break).

Basé sur les personnages DC Comics, Legends of Tomorrow est produit par Bonanza Productions Inc. en association avec Berlanti Productions et Warner Bros. Television, avec pour producteurs exécutifs Greg Berlanti (The Flash, le futur Pan), Marc Guggenheim (Eli Stone, Percy Jackson : La mer des monstres), Andrew Kreisberg (The Flash, Eli Stone, Warehouse 13) et Sarah Schechter (The Flash, le futur Pan).
Tout s'explique ! Sara Lance/Canary est de retour grâce… à la technologie du voyage dans le temps. Pratique. Quant au grand vilain du show, je crois que nous pouvons miser sur Vandal Savage, l'immortel homme préhistorique qui a traversé les millénaires et les empires ! La diffusion de Legends of Tomorrow devrait débuter en janvier 2016, pendant la pause d'Arrow et The Flash. En terme de programmation, c'est un peu l'Agent Carter de l'Univers Télévisuel DC Comics. Le nombre d'épisodes n'est pas encore connu (sans doute 13 épisodes)…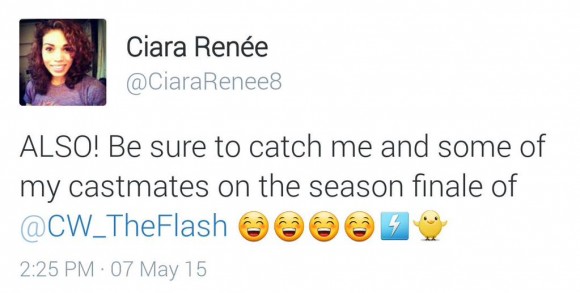 Le spin-off d'Arrow et The Flash sera diffusé début 2016 sur la chaîne The CW, avec Brandon Routh (Ray Palmer/The Atom), Wentworth Miller (Leonard Snart/Captain Cold), Victor Garber (Martin Stein/Firestorm), Caity Lotz (Sara Lance), Dominic Purcell (Mick Rory/Heat Wave), Ciara Renée (Kendra Saunders/Hawkgirl) et Arthur Darvill (Rip Hunter).