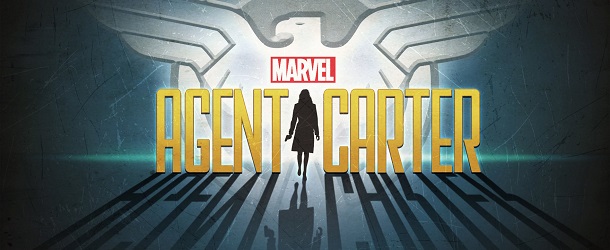 Increvable Peggy Carter… Toujours là, héroïne de sa propre série, cinq ans après la sortie de Captain America : First Avenger ! Cette année, nous passons d'une saison de huit épisodes à une saison de dix épisodes. Nous passons de la côte est à la côte ouest. De liens avec Avengers : L'Ère d'Ultron (le programme Black Widow) à des liens avec Doctor Strange (la Matière Zéro, plus connue sous le nom de Darkforce). Qu'avez-vous pensé de ces deux premiers épisodes ? Le rythme mollasson de la saison 1 est-il derrière nous ? A vos claviers !
Agent Carter – Saison 2 – Episode 1 – 'The Lady in the Lake' – Synopsis et extraits : Peggy part pour la Cité des Anges afin d'aider Daniel Sousa – le chef du Strategic Scientific Reserve (SSR) de la Côte Ouest – dans une enquête, un homicide bizarre impliquant un tueur présumé et Isodyne Energy ; et elle renoue avec des visages familiers.
+
Agent Carter – Saison 2 – Episode 2 – 'A View in the Dark' – Synopsis : Peggy découvre que son enquête sur le meurtre a d'énormes ramifications qui peuvent détruire sa carrière, ainsi que tous ceux qui lui sont proches.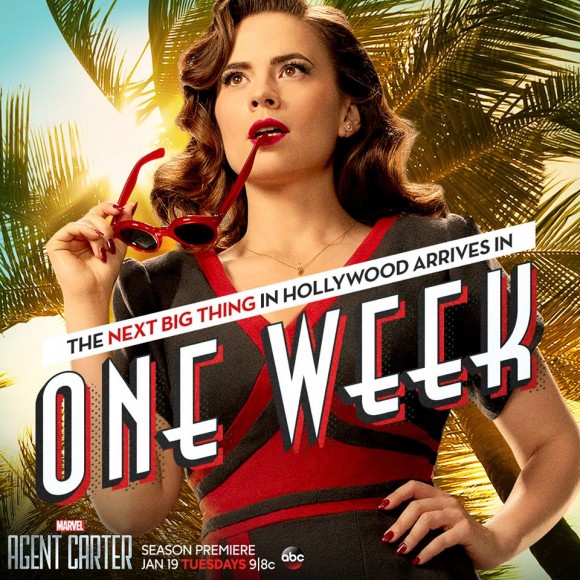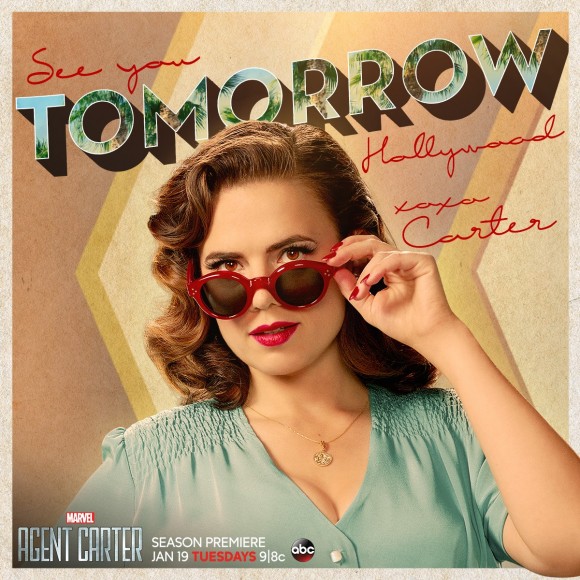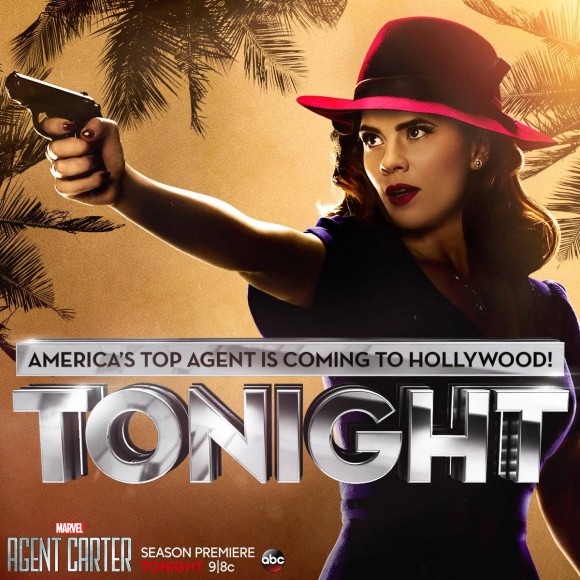 ————————————————–
Audience US : Lancement catastrophique pour Agent Carter… Plombés par le documentaire Marvel's Captain America : 75 Heroic Years diffusé juste avant (3.20 millions, 0.9%), les deux premiers épisodes de la saison 2 ont réuni en moyenne 3.18 millions de téléspectateurs, avec un taux de 0.9%. C'est moitié moins que le pilote (6.91 millions, 1.9%), moins que le season finale (4.02 millions, 1.3%) et moins que le dernier épisode d'Agents of S.H.I.E.L.D. (3.85 millions, 1.3%). Ouch. Pas facile de lutter face aux documentaires DC [chiffres définitifs] !
————————————————–
Agent Carter – Saison 2 – Episode 3 – 'Better Angels' – Preview : La quête de vérité de Peggy sur la Matière Zéro la place sur une trajectoire de collision avec ses supérieurs et Howard Stark.
La série Agent Carter est diffusée chaque mardi sur la chaîne ABC, avec Hayley Atwell (Agent Peggy Carter), James D'Arcy (Edwin Jarvis), Chad Michael Murray (Agent Jack Thompson), Enver Gjokaj (Agent Daniel Sousa), Lyndsy Fonseca (Angie Martinelli), Dominic Cooper (Howard Stark) et Bridget Regan (Dottie Underwood).