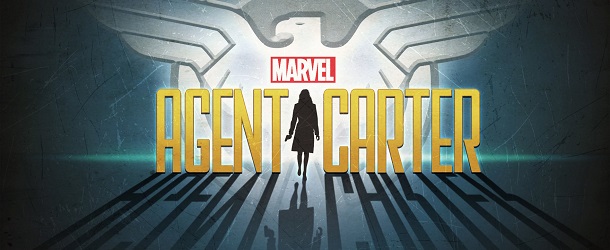 Outre les traditionnels extraits, nous avons deux chouettes bonus cette semaine… On commence avec une vidéo consacrée à l'intangibilité, présentée par Reggie Austin (Docteur Jason Wilkes). Où l'on découvre qu'Agent Carter dispose d'un conseiller scientifique ! Plus accessible, un avant/après de douze minutes sur les effets visuels de la saison 1. C'est là qu'on se demande quelle série est la plus coûteuse pour Marvel Television, Agents of S.H.I.E.L.D. et ses super-pouvoirs ou Agent Carter et ses super-décors ?
Agent Carter – Saison 2 – Episode 4 – 'Smoke and Mirrors' – Synopsis et extraits : L'Agent Carter et le SSR apprennent qu'il y a plus qu'un joli visage derrière la star d'Hollywood Whitney Frost, la plus dangereuse ennemie de Peggy à ce jour.
————————————————–
Audience US : A force de creuser, Agent Carter va finir par découvrir un gisement de Matière Zéro… Hier soir, l'épisode 'Smoke and Mirrors' a séduit 2.77 millions de téléspectateurs (contre 2.90 millions la semaine dernière). C'est bien évidemment la plus mauvaise audience historique du show. Sur la cibles préférée des annonceurs, les 18-49 ans, notre héroïne boit la tasse avec un taux de 0.8% (en baisse de 0.1 point). Difficile de faire pire [chiffres définitifs].
————————————————–
Agent Carter – Saison 2 – Episode 5 – 'The Atomic Job' – Preview : Alors que la précision de Jarvis et sa capacité à prendre des décisions rapidement sont mises à rude épreuve, Peggy doit trouver un moyen de stopper une explosion atomique qui menace de détruire toute la Californie.
La série Agent Carter est diffusée chaque mardi sur la chaîne ABC, avec Hayley Atwell (Agent Peggy Carter), James D'Arcy (Edwin Jarvis), Chad Michael Murray (Agent Jack Thompson), Enver Gjokaj (Agent Daniel Sousa), Lyndsy Fonseca (Angie Martinelli), Dominic Cooper (Howard Stark) et Bridget Regan (Dottie Underwood).