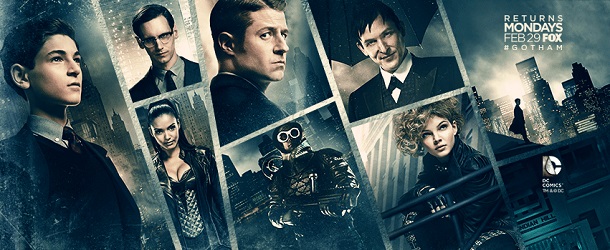 Elle est donc de retour… Forcément, la question se pose : est-ce vraiment nécessaire ? Si Gotham a survécu sans la super-vilaine aux yeux vairons pendant une saison, c'est que le show peut normalement se passer d'elle. Bref, êtes-vous pour ou contre un retour de Fish Mooney aux affaires dans la saison 3 ? Qui de Clayface ou de Reed Richards a la peau la plus élastique ? Qu'avez-vous pensé de cet ultime épisode avant le grand final ? A vos claviers !
Gotham – Saison 2 – Episode 21 – 'A Legion of Horribles' : Hugo Strange accueille un visage familier de Gotham après avoir ressuscité Fish Mooney à Indian Hill. Plus tard, Bruce découvre qu'un ami est en danger et il fait équipe avec Gordon, Alfred et Lucius, tout en découvrant de nouvelles expériences de Strange.
————————————————–
Audience US : Effet fin de saison ou effet Fish Mooney ? Hier soir, l'épisode 'A Legion of Horribles' a été suivi par 3.84 millions de téléspectateurs (contre 3.67 millions la semaine dernière). C'est la meilleure audience de la série depuis deux mois. Sur la cible des 18-49 ans, cela se traduit par un taux de 1.3% (en hausse de 0.1 point) [chiffres définitifs].
————————————————–
Gotham – Saison 2 – Episode 22 – 'Transference' : Pendant que Gordon, Bruce et Lucius restent à Indian Hill, la ville de Gotham fait face à une nouvelle menace quand les détenus de Hugo Strange conçoivent un plan pour s'échapper et commencer une nouvelle vie.
La série Gotham est diffusée chaque lundi sur la chaîne FOX (et actuellement sur TMC), avec Ben McKenzie (Inspecteur James Gordon), Donal Logue (Harvey Bullock), Michael Chiklis (Capitaine Nathaniel Barnes), Sean Pertwee (Alfred Pennyworth), Robin Lord Taylor (Oswald Cobblepot/le Pingouin), Erin Richards (Barbara Kean), David Mazouz (Bruce Wayne) et Camren Bicondova (Selina Kyle/Catwoman).