Comme Agents of S.H.I.E.L.D., Supergirl s'offre un season finale en deux parties, étalé sur deux semaines. On écoute le showrunner Andrew Kreisberg : « Le final est probablement le plus gros épisode que nous ayons jamais fait. Nous avons économisé beaucoup d'argent pour payer plus d'effets visuels et nous avons ajouté un jour supplémentaire à notre calendrier de tournage pour le rendre aussi grand que possible ; et pourtant, il y a aussi plusieurs scènes sortez-les-mouchoirs. » Une invasion extraterrestre de grande ampleur, Cat Grant, Lynda Carter, le retour de Superman… Avez-vous été diverti par le dernier épisode de Supergirl ?
Supergirl – Saison 2 – Episode 21 – 'Resist' : Supergirl lutte pour savoir si elle doit, oui ou non, obéir aux ordres de la Présidente suite aux dernières actions de Rhea. Pendant ce temps, Cat Grant est de retour à National City.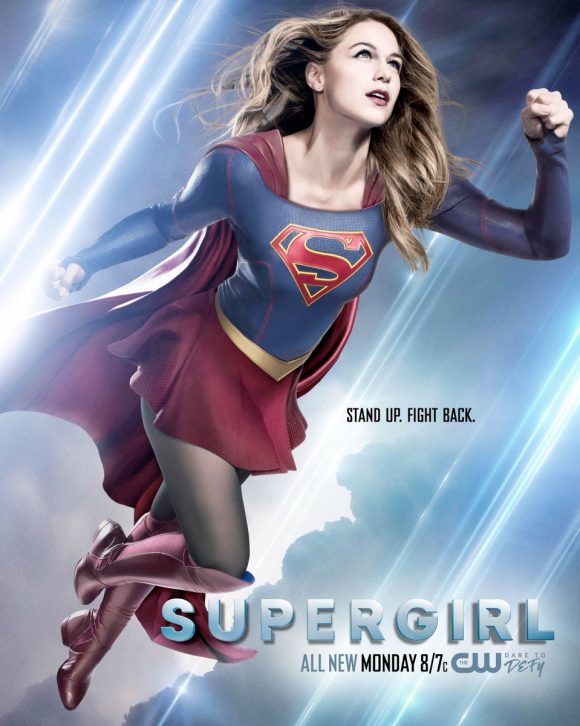 ————————————————–
Audience US : Supergirl peine à résister… Hier soir, l'épisode 'Resist' a rassemblé 1.93 million de téléspectateurs (contre 1.88 million la semaine dernière). C'est la seconde hausse consécutive. Malheureusement, sur la cible des 18-49 ans, le show réalise un taux de 0.5% (en baisse de 0.1 point) [chiffres définitifs].
————————————————–
Supergirl – Saison 2 – Episode 22 – 'Nevertheless, She Persisted' : Supergirl défie Rhea afin de sauver National City. Pendant ce temps, Superman est de retour et Cat Grant offre de sages conseils à Supergirl.
La série Supergirl est diffusée chaque lundi sur la chaîne The CW, avec Melissa Benoist (Kara Danvers/Supergirl), Chyler Leigh (Alex Danvers), Jeremy Jordan (Winslow 'Winn' Schott), Mehcad Brooks (James Olsen), David Harewood (Hank Henshaw), Chris Wood (Mon-El), Floriana Lima (Maggie Sawyer) et Katie McGrath (Lena Luthor).