La cavale de la famille Strucker va bientôt commencer… The Hollywood Reporter a mis en ligne un nouveau poster de The Gifted (« La famille est le pouvoir ultime. »). Le show mutant sera présenté au public de la Comic-Con dans la nuit de vendredi à samedi (0h45-1h45). Et les visiteurs de la convention auront la possibilité de faire tester leur ADN, pour découvrir leur éventuelle mutanité…
The Gifted raconte l'histoire d'un couple de banlieue dont les vies ordinaires sont ébranlées par la découverte soudaine que leurs enfants possèdent des pouvoirs mutants. Reed et Caitlin Strucker sont des parents typiques de la classe moyenne qui gèrent les réalités d'une famille. Cependant, quand leurs enfants adolescents, Lauren et Andy, sont impliqués dans un incident au lycée qui révèle qu'ils sont mutants, Reed et Caitlin font tout leur possible pour protéger leurs enfants. Forcés de prendre la fuite, les Strucker doivent laisser derrière eux leur ancienne vie pour fuir une agence gouvernementale implacable qui traque les mutants, le Sentinel Services [lire le synopsis complet].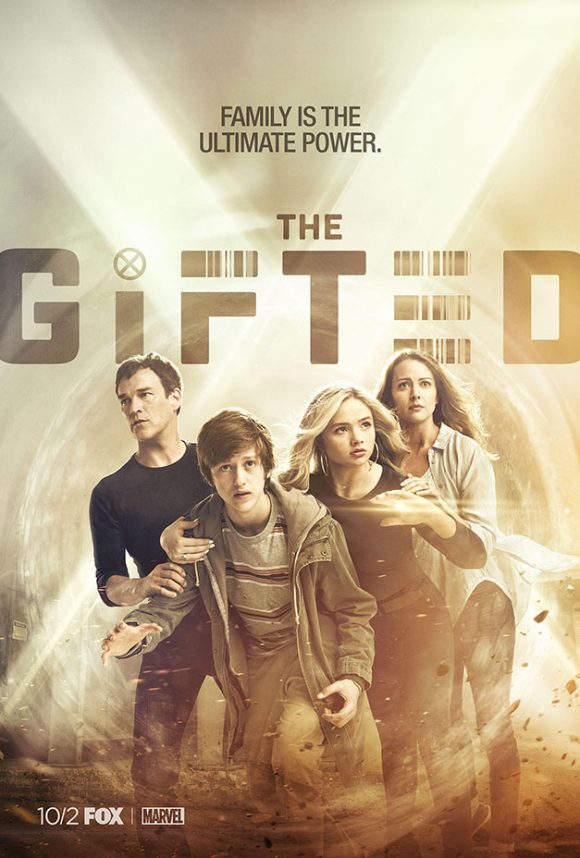 ——————————————-
Watch out… we've got powers 💚✖💚 @BryanSinger @TheGiftedonFOX #mutants pic.twitter.com/sCIyaV60zZ

— Emma Dumont (@EmmaDumont) 14 juillet 2017
La série The Gifted sera diffusée à partir du 2 octobre 2017 sur la chaîne FOX, avec Stephen Moyer (Reed Strucker), Amy Acker (Caitlin Strucker), Natalie Alyn Lind (Lauren), Percy Hynes White (Andy), Blair Redford (John Proudstar/Thunderbird), Sean Teale (Marcos Diaz/Eclipse), Jamie Chung (Clarice Fong/Blink), Emma Dumont (Lorna Dane/Polaris) et Coby Bell (Jace Turner).