Premier signe de vie de Cloak & Dagger depuis la mise en ligne de la bande annonce en avril dernier ! Il faut dire qu'entre Inhumans, The Gifted et Runaways, Marvel Television n'a pas chômé. Sur ce premier poster, Tyrone et Tandy sont logiquement à l'honneur, ainsi que… Roxxon Oil Corporation, le maléfique conglomérat qui a déjà sévi dans Agent Carter. Rendez-vous samedi pour le panel Freeform de la Comic-Con de New York (18h-19h30) !
Deux adolescents issus de milieux très différents se retrouvent accablés et éveillés par l'acquisition de super-pouvoirs, alors qu'ils tombent amoureux – Tandy peut émettre des lames de lumière et Tyrone a la capacité d'engloutir les autres dans l'obscurité. Ils apprennent vite qu'ils sont plus forts ensemble que séparés, mais leurs sentiments l'un pour l'autre rendent le monde plus compliqué qu'il ne l'est déjà.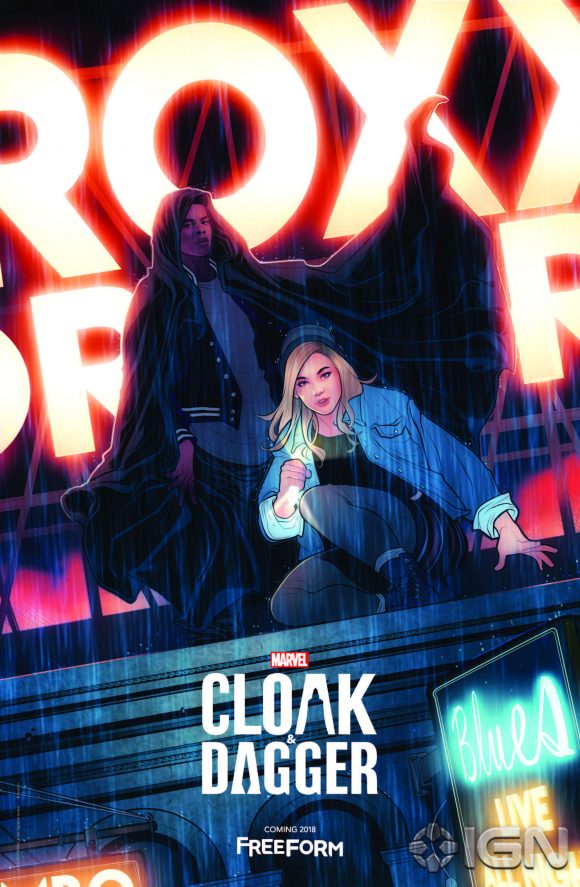 ——————————————————–
Hi from @Olivia_Holt and Aubrey Joseph on the set of @Marvel's #CloakAndDagger. 👋 pic.twitter.com/5S6fVRhXea

— Cloak & Dagger (@CloakandDagger) 28 septembre 2017
La série Cloak & Dagger sera diffusée en 2018 sur la chaîne Freeform, avec Aubrey Joseph (Tyrone Johnson/la Cape), Olivia Holt (Tandy Bowen/l'Épée), Miles Mussenden (Michael Johnson), Gloria Reuben (Adina Johnson), Andrea Roth (Melissa Bowen), James Saito (Dr Bernard Sanjo), Carl Lundstedt (Liam) et J.D. Evermore (Inspecteur Connors).