Plus que deux petites semaines avant le retour d'Agents of S.H.I.E.L.D. ! Histoire de remobiliser les troupes, ABC et Marvel Television ont dévoilé le poster de la saison 5. Des têtes qui flottent, des étoiles de toutes les couleurs, des cailloux cosmiques et un grand absent. Regardez de plus près… C'est la première fois que l'emblème du S.H.I.E.L.D. ne figure pas sur un poster de début de saison !
Agents of S.H.I.E.L.D. – Saison 5 – Episodes 1 et 2 – 'Orientation (Part 1)' / 'Orientation (Part 2)' : Coulson et l'équipe se retrouvent coincés sur un mystérieux vaisseau dans l'espace et ce n'est que le début du cauchemar à venir.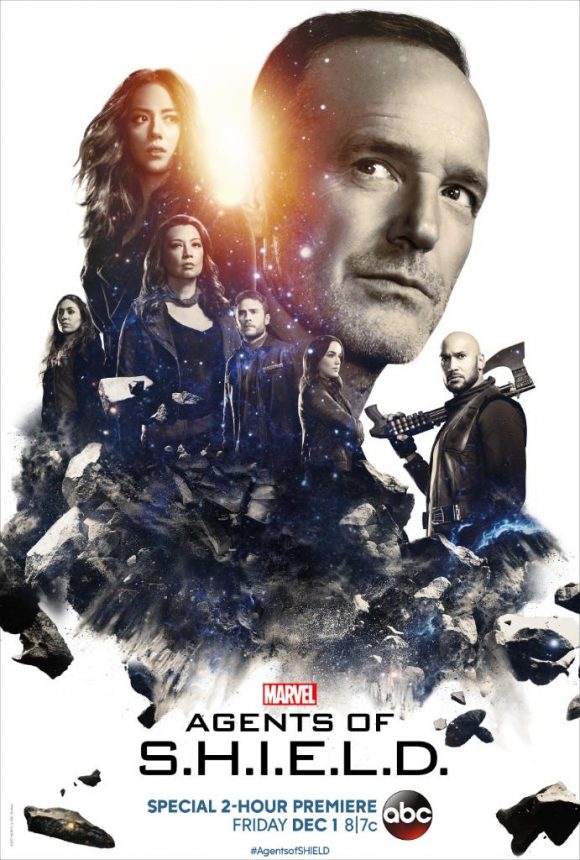 La série Agents of S.H.I.E.L.D. revient le 1er décembre 2017 sur la chaîne ABC, avec Clark Gregg (Agent Phil Coulson), Ming-Na Wen (Agent Melinda May), Chloe Bennet (Agent Daisy Johnson/Quake), Iain De Caestecker (Agent Leo Fitz), Elizabeth Henstridge (Agent Jemma Simmons), Henry Simmons (Agent Alphonso 'Mack' Mackenzie), Natalia Cordova-Buckley (Agent Elena 'Yo-Yo' Rodriguez) et Nick Blood (Lance Hunter).