Des comics DC Comics dans une série télévisée DC Comics ? Lancez la playlist Hans Zimmer, Black Lightning est en pleine Inception ! Dans 'LaWanda : The Book of Burial', nous assistons donc à une scène peu banale : Grace Choi tend à Anissa Pierce un comic book, Outsiders #16 (voir la couverture ci-dessus). Par le plus grand des hasards, Curtis Holt a proposé Outsiders comme nom d'équipe à la New Team Arrow dans le dernier épisode d'Arrow. Et c'est surtout une super-équipe fondée par Batman en 1983 et dont Black Lightning est l'un des membres fondateurs…
Black Lightning – Saison 1 – Episode 3 – 'LaWanda : The Book of Burial' : Alors que Jefferson Pierce essaye de déterminer si la communauté peut survivre sans l'aide de Black Lightning, Anissa commence à montrer de quoi elle est capable. Pendant ce temps, Jefferson et Lynn essayent de comprendre leur nouvelle dynamique. Enfin, Jennifer révèle à ses parents qu'elle est aux prises avec quelque chose de gros.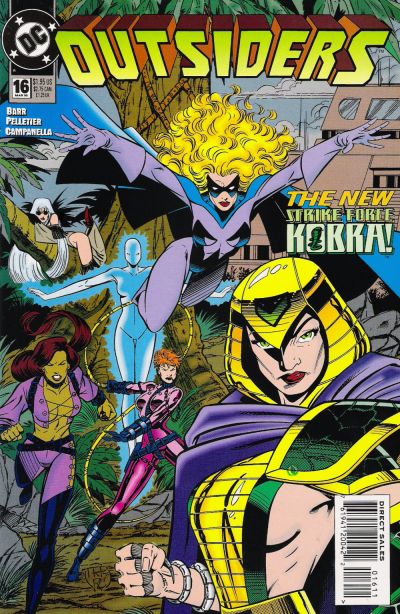 ————————————————–
Audience US : Quand The Flash est en forme, Black Lightning suit… Hier soir, l'épisode 'LaWanda : The Book of Burial' a rassemblé 2.21 million de téléspectateurs (contre 1.94 million la semaine dernière). Avec cette première hausse, Jefferson Pierce retrouve quasiment le niveau de son pilote (2.31 millions). Et c'est carrément le cas sur la cible des 18-49 ans, avec un taux de 0.8% (en hausse de 0.2 point) [chiffres définitifs] !
————————————————–
Black Lightning – Saison 1 – Episode 4 – 'Black Jesus' : Black Lightning est recruté pour manifester contre le gang The 100. Anissa enquête sur la nouvelle drogue qui inonde les rues. Pendant ce temps, des visages familiers commencent à réapparaître.
La série Black Lightning est diffusée chaque mardi sur la chaîne The CW, avec Cress Williams (Jefferson Pierce/Black Lightning), Christine Adams (Lynn Pierce), Nafessa Williams (Anissa Pierce/Thunder), China Anne McClain (Jennifer Pierce/Lightning), James Remar (Peter Gambi), Damon Gupton (Inspecteur Henderson) et Chantal Thuy (Grace Choi).