Cette semaine sur les écrans, seulement deux productions super-héroïques Greg Berlanti, Legends of Tomorrow et Black Lightning… Il se trouve que le producteur historique de l'Univers Télévisuel DC Comics vient de connaître un certain succès ce week-end en tant que réalisateur. La dramédie romantique Love, Simon a rapporté 11.8 millions de dollars pour un budget de 17 millions. De quoi renforcer un peu plus son pouvoir à Hollywood… et peut-être de lancer de nouveaux projets super-héroïques, comme Booster Gold ! Sans transition, Thunder porte enfin son 'vrai' super-costume. Classe ou pas classe ?
Black Lightning – Saison 1 – Episode 9 – 'The Book of Little Black Lies' : A la suite du dernier meurtre, Black Lightning s'efforce de laver son nom tout en traquant la personne responsable de la mort de son père et toute autre personne impliquée. Les tensions restent fortes entre Black Lightning et Gambi.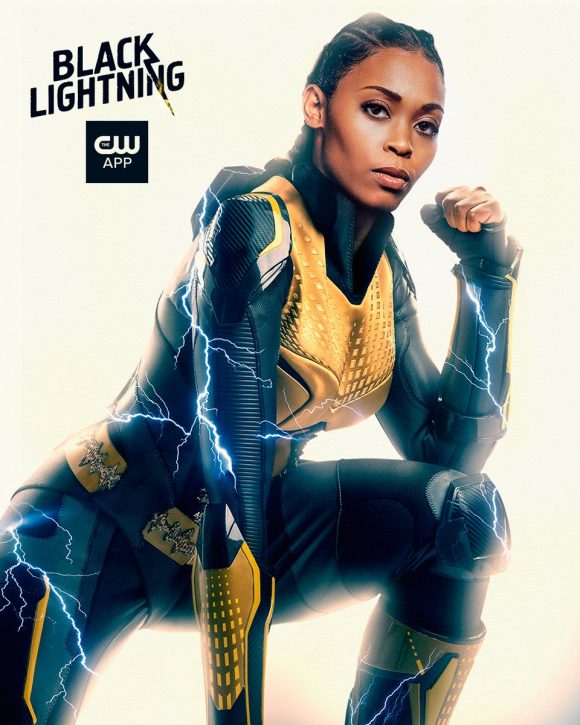 ————————————————–
Audience US : Première hausse depuis janvier, ce n'est pas un exercice ! Hier soir, l'épisode 'The Book of Little Black Lies' a été suivi par 1.55 million de téléspectateurs (contre 1.45 million la semaine dernière). Sur la cible des 18-49 ans, la famille Pierce réalise toujours un taux de 0.5% (inchangé) [chiffres définitifs].
————————————————–
Black Lightning – Saison 1 – Episode 10 – 'Sins of the Father : The Book of Redemption' : La tentative de Black Lightning de sauver plusieurs enfants disparus depuis longtemps révèle un secret qu'il n'avait pas anticipé, et ses connexions résultantes. Gambi lutte pour rester fort dans une position compromettante. Jefferson commence à voir les choses différemment.
La série Black Lightning est diffusée chaque mardi sur la chaîne The CW, avec Cress Williams (Jefferson Pierce/Black Lightning), Christine Adams (Lynn Pierce), Nafessa Williams (Anissa Pierce/Thunder), China Anne McClain (Jennifer Pierce/Lightning), James Remar (Peter Gambi), Damon Gupton (Inspecteur Henderson) et Marvin 'Krondon' Jones III (Tobias Whale).