Quand Marvel Studios boude la Comic-Con et laisse le Hall H à qui veut le prendre, cela donne… un panel Deadpool 2 deux mois après la sortie du film ! Pour 20th Century Fox, il s'agit bien sûr d'assurer la promotion de la version longue du blockbuster. Ryan Reynolds a donc fait le show pendant une heure. Entre deux blagues salaces et deux anecdotes déjà connues, plusieurs extraits de la version Super Méga $@%!#& Chouette ont été projetés au public, dont la fameuse scène post-générique où Deadpool voyage dans le temps pour tuer Adolf Hitler bébé… Ce n'est pas très Disney tout ça ! Au fait, Deadpool 2 termine en beauté sa campagne promotionnelle, dans les toilettes de la Comic-Con. Je vous laisse découvrir le pourquoi du comment ci-dessous ! Deadpool 2 sort le 17 octobre en DVD, Blu-ray, 4K Ultra HD, édition Steelbook Blu-ray, édition Steelbook 4K Ultra HD, coffret peluche, coffret duologie DVD, coffret duologie Blu-ray et coffret duologie 4K Ultra HD…
L'insolent mercenaire de Marvel remet le masque ! Plus grand, plus-mieux, et occasionnellement les fesses à l'air, il devra affronter un super-soldat dressé pour tuer, repenser l'amitié, la famille, et ce que signifie l'héroïsme – tout en bottant cinquante nuances de culs, car comme chacun sait, pour faire le Bien, il faut parfois se salir les doigts.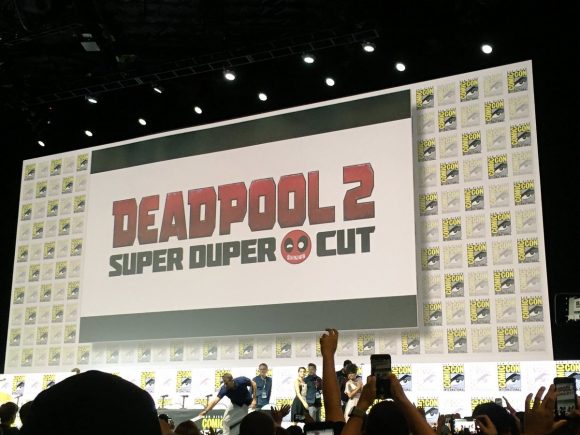 The #Deadpool 2 cast was here to talk about the special extended version of the film, coming to bluray!#SDCC pic.twitter.com/vxrmmVIbpG

— We So Nerdy @ #SDCC (@WeSoNerdy) 22 juillet 2018
Ryan Reynolds is asked at Comic-Con which one he dislikes more, X-Men Origins or Green Lantern. After a thoughtful explanation of the ups and downs of filmmaking, he says: "No, they're both pretty bad." pic.twitter.com/ljdSK0Nj8M

— Ryan Gajewski (@_RyanGajewski) 22 juillet 2018
Ryan Reynolds on possibility of #GreenLantern #Deadpool crossover movie #SDCC2018 pic.twitter.com/rUY2OLVy9Z

— Brent Lang (@BrentALang) 22 juillet 2018
Being the drunk uncle of the Marvel universe is serious business. #Deadpool2 Super Duper F'n Cut at #SDCC — Digital August 7 & Blu-ray August 21 pic.twitter.com/n6ifSkYJHI

— Ryan Reynolds (@VancityReynolds) 22 juillet 2018
——————————————————
Le stand Deadpool 2 :
— ErikDavis (@ErikDavis) 19 juillet 2018
——————————————————
Deadpool s'invite dans les toilettes de la Comic-Con (« C'est tout ce que la Fox a pu s'offrir. ») !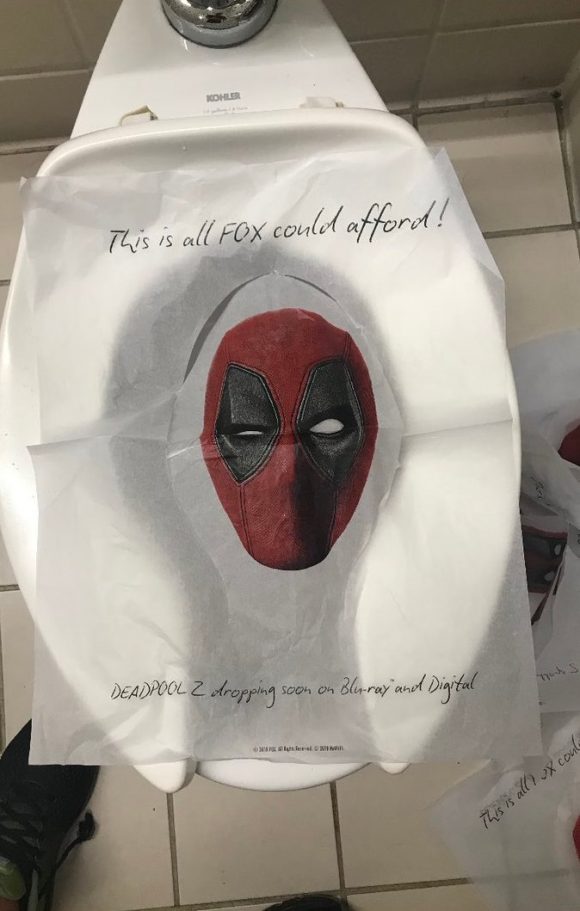 ——————————————————
Deadpool squatte les grands classiques du cinéma (via IGN). Ces Blu-rays aux pochettes exclusives seront commercialisés à partir du 7 août dans les magasins Walmart.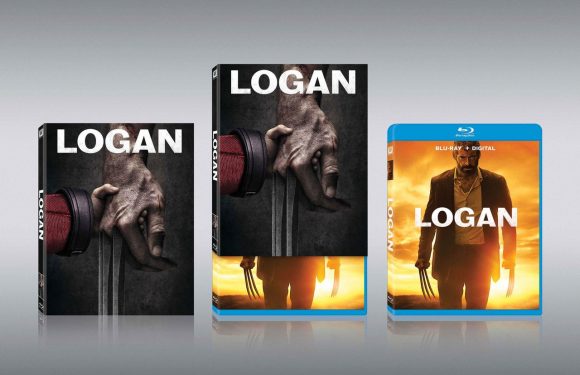 ——————————————————
Deadpool 2 de David Leitch est sorti en France le 16 mai 2018, avec Ryan Reynolds (Wade Wilson/Deadpool), Josh Brolin (Nathan Summers/Cable), Zazie Beetz (Neena Thurman/Domino), Brianna Hildebrand (Ellie Phimister/Negasonic Teenage Warhead), Stefan Kapacic (Piotr Rasputin/Colossus), Morena Baccarin (Vanessa), Leslie Uggams (Blind Al) et Julian Dennison (Russell Collins/Firefist).