Le grand panel Warner Bros. Pictures a gardé le plus attendu – l'Univers Cinématographique DC Comics – pour la fin… et contre toute attente, c'est Wonder Woman 1984 qui ouvre le bal ! La réalisatrice Patty Jenkins et les acteurs Gal Gadot et Chris Pine montent sur scène. Jenkins reste évasive concernant le retour de Steve Trevor, mais assure que cette intrigue aura une place très importante dans l'histoire. Elle explique ensuite pourquoi le film se déroule en 1984 : « C'était l'humanité à son meilleur… et à son plus bas. C'est nous à nos extrêmes. »
Une courte scène d'action est projetée. Wonder Woman combat des méchants dans le restaurant d'un centre commercial, sauve une petite fille, et virevolte dans les airs en utilisant son lasso, qui sert à désarmer ses adversaires. Elle court ensuite dans une avenue de Washington. D'après Gadot, Wonder Woman 1984 n'est « pas une suite, c'est un nouveau chapitre, un tout nouveau film ». Jenkins réaffirme ensuite son respect pour le réalisateur Richard Donner (Superman). Fin du panel.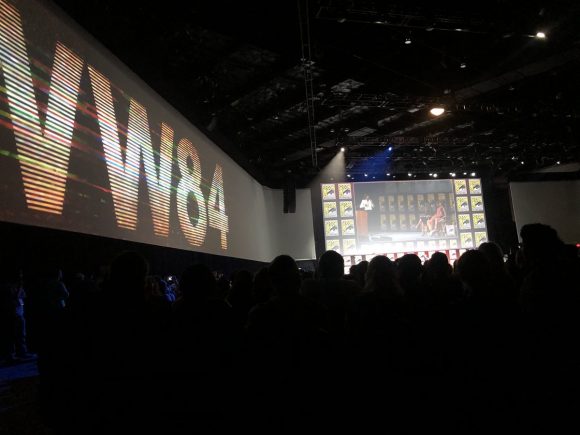 Wonder Woman 1984!!! #WW84 #hallh #sdcc pic.twitter.com/sX9W4EI8tc

— Sue Lukenbaugh (@suepafly) 21 juillet 2018
Here's what @PattyJenks had to say when asked about following up the first #WonderWoman! #SDCC2018 #ColliderSdcc #WonderWoman84 pic.twitter.com/Fd50qEkqt5

— Collider (@ColliderVideo) 21 juillet 2018
So excited to be back in Hall H! #WW84 #SDCC2018 #ChrisPine @GalGadot pic.twitter.com/KZrKHu6kkG

— Patty Jenkins (@PattyJenks) 21 juillet 2018
Wonder Woman 1984 est réalisé par Patty Jenkins est sort en France le 30 octobre 2019, avec Gal Gadot (Diana Prince/Wonder Woman), Chris Pine (Steve Trevor), Kristen Wiig (Barbara Minerva/Cheetah) et Pedro Pascal.