Même remarque que pour le poster de la saison 5 de Supergirl… The Flash ne fait plus cavalier seul ! Pour la première fois, le Bolide Écarlate partage l'affiche avec la Team Flash (Iris West, Cisco Ramon, Caitlin Snow et Ralph Dibny). Cela nous change de Barry Allen, en pleine course, les bras pliés ; même si le résultat est basique de chez basique. Côté casting, on a appris que John Wesley Shipp (Jay Garrick/The Flash) participera au méga-crossover 'Crisis On Infinite Earths'… mais qui en doutait ?
The Flash – Saison 6 : La Team Flash a passé l'année dernière à gérer non pas un mais deux Cicadas, le retour d'Eobard Thawne (alias Reverse Flash), et l'arrivée surprise de la fille de Barry et Iris venue du futur, Nora West-Allen (alias XS). Les enjeux étaient plus élevés que jamais lors du dernier épisode la saison 5, qui a culminé avec Barry et Iris qui perdent leur fille, alors qu'ils venaient tout juste de la connaître. Comment vont-ils gérer l'adieu à leur fille speedster, et que signifie l'évasion de Thawne pour la Team Flash ?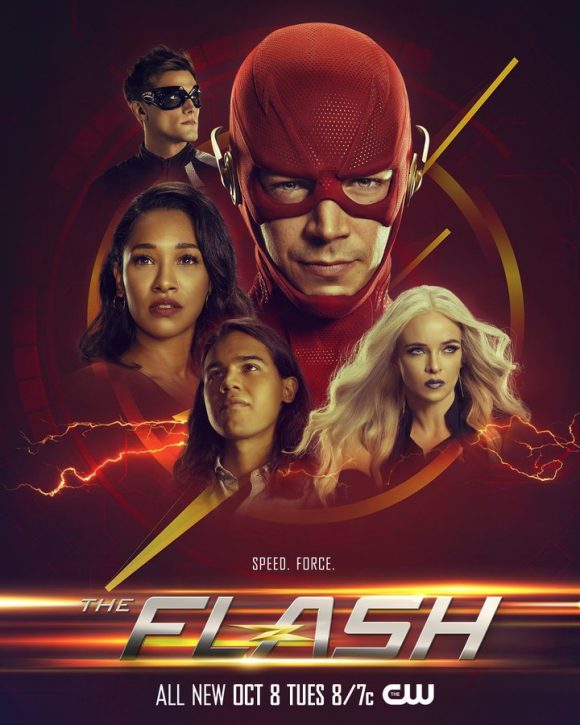 La série The Flash revient le 8 octobre 2019 sur la chaîne The CW, avec Grant Gustin (Barry Allen/The Flash), Candice Patton (Iris West), Carlos Valdes (Cisco Ramon/Vibe), Danielle Panabaker (Caitlin Snow/Killer Frost), Hartley Sawyer (Ralph Dibny/Elongated Man), Jesse L. Martin (Joe West), Danielle Nicolet (Cecile Horton) et Tom Cavanagh (Wells).