« C'est la fin… des mondes. » Vous l'attendiez, vous avez peut-être même imaginé à quoi il ressemblerait… Voici le poster du méga-crossover 'Crisis on Infinite Earths' ! 18 personnages représentés, c'est digne de l'affiche d'Avengers : Infinity War. Il est cependant dommage de ne pas avoir mis Oliver Queen au centre, puisqu'il est un peu l'alpha et l'omega de l'Arrowverse. Mais passons. Qui vivra ? Qui mourra ? Quel sera le sort du multiverse ? Plus que deux semaines à attendre !
Supergirl – Saison 5 – Episode 9 – 'Crisis on Infinite Earths, Part One' : Le Monitor envoie Harbinger réunir les plus grands héros du monde – Supergirl, The Flash, Green Arrow, Batwoman, White Canary, The Atom et Superman – en prévision de la crise à venir. Avec leurs mondes exposés à un danger imminent, les super-héros se préparent au combat, tandis que J'onn et Alex recrutent Lena pour les aider à trouver un moyen de sauver les habitants de la Terre-38.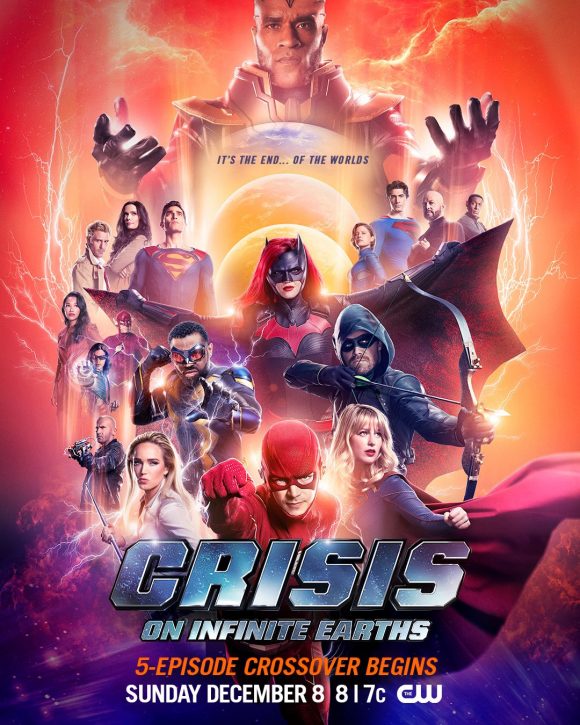 Le crossover Crisis on Infinite Earths sera diffusé en 2019 et en 2020 sur la chaîne The CW, dans Supergirl (8 décembre, 5×09), Batwoman (9 décembre, 1×09), The Flash (10 décembre, 6×09), Arrow (14 janvier, 8×08) et Legends of Tomorrow (14 janvier, 5×00).