Princesse Disney (Fa Mulan dans Mulan), héroïne Marvel (Melinda May dans Agents of S.H.I.E.L.D.) et désormais… méchante Star Wars ! Vanity Fair vient de dévoiler la première image de Ming-Na Wen dans The Mandalorian. A partir de l'épisode 5 de la saison 1 (6 décembre), réalisé par Dave Filoni (Star Wars Rebels, Star Wars : The Clone Wars), elle jouera donc une mercenaire qui répond au nom de Fennec Shand. Il y a même un nouveau teaser, où elle prononce quelques mots. Allez, plus que huit jours avant le lancement de la série !
Après les histoires de Jango et Boba Fett, un autre guerrier émerge dans l'univers Star Wars. The Mandalorian se déroule après la chute de l'Empire et avant l'émergence du Premier Ordre. Nous suivons les péripéties d'un tireur solitaire dans les confins extérieurs de la galaxie, loin de l'autorité de la Nouvelle République.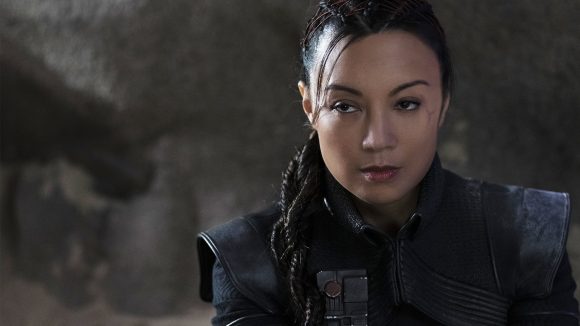 La série The Mandalorian sera mise en ligne à partir du 12 novembre 2019 sur Disney+, avec Pedro Pascal (le Mandalorien), Gina Carano (Cara Dune), Carl Weathers (Greef Carga), Omid Abtahi (Docteur Pershing), Taika Waititi (IG-11), Nick Nolte, Giancarlo Esposito (Moff Gideon), Emily Swallow, Werner Herzog, Bill Burr et Mark Boone Junior.