[Mise à jour : Ajout d'une story Instagram où Anthony Mackie et Sebastian Stan annoncent à leur tour le début du tournage !] On ne dirait pas comme ça, mais c'est un peu le début d'une nouvelle ère… Le tournage de The Falcon and The Winter Soldier a commencé hier, 31 octobre 2019, à Atlanta ! Merci au showrunner Malcolm Spellman (Empire, La guerre des pères) pour l'information, postée sur Instagram (et depuis supprimée). Les six épisodes de la série seront donc réalisés par Kari Skogland (The Punisher, The Handmaid's Tale, The Walking Dead, House of Cards, Boardwalk Empire). Et pour ceux qui n'ont pas encore le calendrier en tête, il s'agit bien de la première série Marvel Studios qui sera diffusée sur Disney+.
Avec The Falcon and The Winter Soldier et les shows qui vont suivre, la frontière est sur le point de se brouiller entre le cinéma et la télévision. Et on peut intégrer à la réflexion des projets comme Green Lantern et Strange Adventures. Aujourd'hui, les studios s'effacent derrière les conglomérats, qui rêvent tous de répliquer le succès de Netflix avec leur propre plateforme de streaming, alignant pour cela des budgets colossaux et des personnages jusqu'ici cantonnés au grand écran. Au final, où est l'événement quand on a le choix entre un 'petit' film d'espionnage sur Black Widow et une série d'action à 100-150 millions de dollars comme The Falcon and The Winter Soldier ? Au cinéma ou dans notre salon ? C'est la question !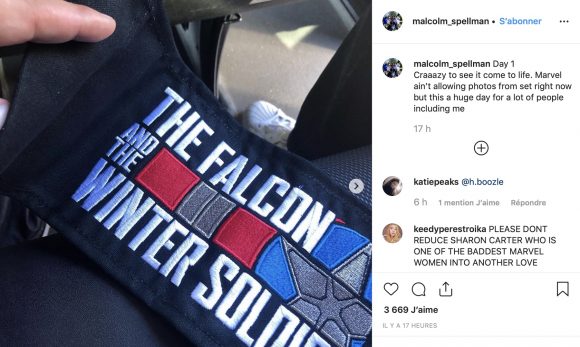 La série The Falcon and The Winter Soldier sera diffusée à l'automne 2020 sur la plateforme Disney+, avec Anthony Mackie (Sam Wilson/le Faucon), Sebastian Stan (Bucky Barnes/le Soldat de l'Hiver), Daniel Brühl (Helmut Zemo), Emily VanCamp (Sharon Carter) et Wyatt Russell (John Walker).