Quand il s'agit de 'Crisis on Infinite Earths', la chaîne The CW met les petits plats dans les grands (et s'inspire du code couleur d'Avengers : Endgame) ! Voici donc le second poster de l'événement, destiné à rappeler aux téléspectateurs que les deux dernières parties du méga-crossover seront diffusées la semaine prochaine, dans Arrow et Legends of Tomorrow (14 janvier). C'est l'occasion de découvrir pour la première fois Oliver Queen en Spectre. La transition est facile pour Green Arrow, puisque les deux super-héros portent du vert !
Arrow – Saison 8 – Episode 8 – 'Crisis on Infinite Earths : Part Four' : Piégés à Vanishing Point, les Paragons cherchent un moyen de s'échapper. La futilité de la situation est aggravée par la disparition de The Flash. Cependant, l'espoir apparaît sous la forme d'Oliver, qui révèle qu'il est devenu autre chose. Pendant ce temps, les origin stories du Monitor et de l'Anti-Monitor sont révélées.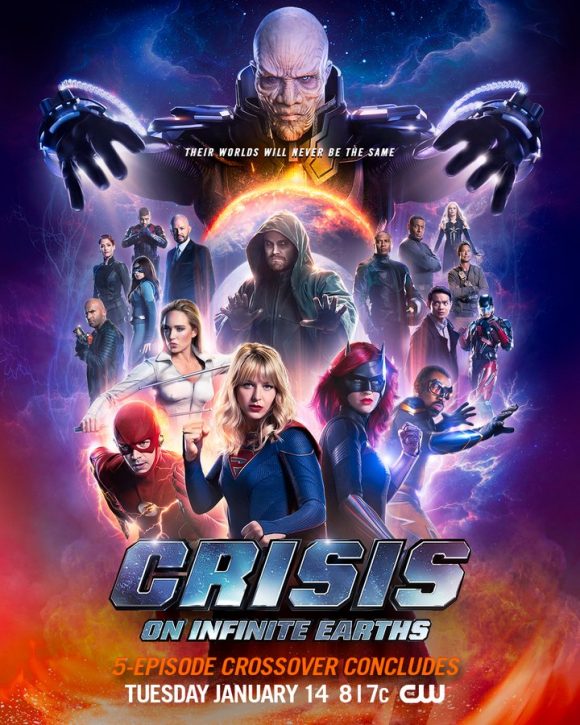 Le crossover Crisis on Infinite Earths est diffusé en 2019 et en 2020 sur la chaîne The CW, dans Supergirl (8 décembre, 5×09), Batwoman (9 décembre, 1×09), The Flash (10 décembre, 6×09), Arrow (14 janvier, 8×08) et Legends of Tomorrow (14 janvier, 5×00).