Quel épisode ! Gérer un personnage comme Alice est difficile. Elle a franchi la ligne rouge depuis tellement longtemps qu'une rédemption semble complètement inappropriée. Et pourtant… la puissance des flashbacks et le jeu de Rachel Skarsten font que cette histoire tient encore la route, alors qu'entre les mains de scénaristes moins doués, elle pourrait vite devenir ridicule. Sérieusement, la famille Cartwright… Quelle bande de malades ! On a rarement vu quelque chose d'aussi sombre dans l'Arrowverse. Espérons juste que Kate Kane ne va pas s'en vouloir trop longtemps pour la mort d'un homme qui avait déjà un pied dans la tombe. Sans transition, une pensée pour Amanda Smith, 30 ans, une assistante productrice qui a été blessée le 11 mars dernier sur le tournage de la série, dans un accident impliquant une nacelle élévatrice. A ce jour, après une opération de la colonne vertébrale, elle est paralysée en dessous de la taille. Une campagne de soutien visant à récolter des fonds a été mise en ligne.
Batwoman – Saison 1 – Episode 15 – 'Off With Her Head' : De nouvelles informations sur le passé sombre d'Alice sont dévoilées lorsque Cartwright partage une histoire tordue avec Kate, tandis que Jacob part à la recherche de sa fille imprévisible. Mary et Luke suivent une piste concernant le tueur de Beth.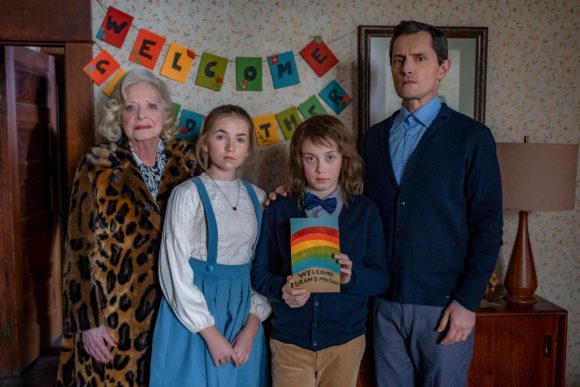 A movie production assistant is paralyzed following a work-place accident on the set of Batwoman in Vancouver https://t.co/5DSys82WHw pic.twitter.com/5ZnsSpAgF0

— NEWS 1130 (@NEWS1130) March 15, 2020
————————————————–
Audience US (chiffres définitifs) : On prend les mêmes… Hier soir, l'épisode 'Off With Her Head' a été suivi par 0.75 million de téléspectateurs (contre 0.75 million la semaine dernière). C'est toujours la deuxième plus mauvaise audience de l'histoire de la série (record à battre : 0.67 million). Sur la cible préférée des annonceurs, les 18-49 ans, le show s'accroche à son taux de 0.2% (inchangé).
————————————————–
Batwoman – Saison 1 – Episode 16 – 'Through the Looking-Glass' : Kate commence à remettre en question son instinct et Luke reçoit des nouvelles bouleversantes. Alice demande l'aide de sa sœur pour une tâche spéciale.
La série Batwoman est diffusée chaque dimanche sur la chaîne CW, avec Ruby Rose (Kate Kane/Batwoman), Meagan Tandy (Sophie Moore), Nicole Kang (Mary Hamilton), Camrus Johnson (Luke Fox), Dougray Scott (Jacob Kane), Elizabeth Anweis (Catherine Hamilton-Kane) et Rachel Skarsten (Elizabeth Kane/Red Alice).